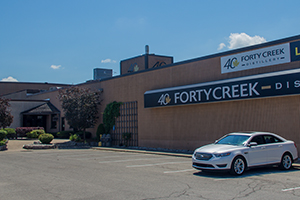 June 3, 2014 – As expected, Gruppo Campari has completed its acquisition of John Hall's Forty Creek Distillery in Grimsby, Ontario…along with the distillery's maturing whisky stocks and intellectual property. In a news release, Campari announced the final acquisition price as $192.8 million CAD ($182.4 million USD) in cash, up from the originally announced price of $185.6 million CAD in March.
As previously reported, John Hall will stay on as Chairman and Whisky Maker under Campari's ownership, with all production management to remain in Grimsby. Forty Creek will become part of Campari's global distribution network, with plans to expand availability in Canada and the United States at first. During a May 13 interview on the unveiling of this year's "Evolution" limited edition release, Hall expected Campari to invest in additional production and maturation capacity in Grimsby as well.
Listen to Mark Gillespie's interview with John Hall:

Campari also completed its acquisition of Italian bitters producer Averna Group for €103.7 million ($143 million USD). The two acquisitions are expected to help replace the loss of Campari's distribution rights in the US for Suntory's Japanese whiskies and its Morrison Bowmore division's Scotch whiskies. Suntory will switch its US distribution on July 1 after completing its $16 billion acquisition of Beam, with the re-named Beam Suntory adding both lines to its US portfolio. At the time, Campari executives noted that the Suntory-owned brands were responsible for about one percent of the company's global sales.
Links: Forty Creek | Gruppo Campari | Beam Suntory