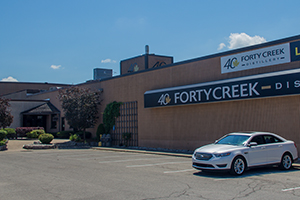 March 12, 2014 – Gruppo Campari has agreed to acquire John Hall's Forty Creek Distillery Ltd. for $185.6 million CDN ($166.7 million USD) in cash, marking the company's entry into the Canadian whisky market. John Hall will remain with the distillery as Chairman and Whisky Maker for the distillery he founded under the Kittling Ridge name in 1992 while making wines in Grimsby, Ontario.
In an interview with WhiskyCast's Mark Gillespie, John explained that his decision to sell the family-run company was based on succession planning, and that while he had a number of suitors, Campari offered the best long-term potential for building Forty Creek.
"I needed a company that had a good distribution network in the United States that could provide brand support to further grow Forty Creek in Canada and the US, and I needed a company that was stable with a long-term vision…and I needed a company that was interested in investing in Canadian whisky…I needed a company that also had respect and appreciation for the Forty Creek brand, and more importantly, the people that create it and produce it, and Campari certainly has all of those qualities." 
Listen to the entire interview:


Hall believes the deal is a milestone for the Canadian whisky industry, since most Canadian whisky is currently sold in the United States with limited global exports. Campari plans to invest in additional production capacity at Forty Creek with a goal of taking the brand worldwide to many of the 190 countries where it does business now. In addition, all of Forty Creek's current employees will be retained when the deal closes on June 2, and Hall will stay on as chairman and whisky maker. The move will allow him to focus on production and not have to devote his time to distribution issues.
The purchase price includes the distillery, all of Forty Creek's maturing whisky stocks, and its brands including Forty Creek and Canada Gold whiskies.  Campari also owns Wild Turkey in Kentucky and Glen Grant in Scotland, and Hall cited the success of Campari's stewardship of Wild Turkey as one of his reasons for picking it over other potential buyers. The company's Campari America unit distributes Wild Turkey and Glen Grant, along with many other whisky brands, such as Bowmore, Auchentoshan, Glen Garioch and The Glenrothes single malts from Scotland, Nikka from Japan, and Taiwan's Kavalan single malt whisky.
Forty Creek has won Canadian Whisky of the Year honors at the Canadian Whisky Awards in three of the competition's four years, and has won numerous other awards in worldwide competitions.
Links: Forty Creek | Gruppo Campari