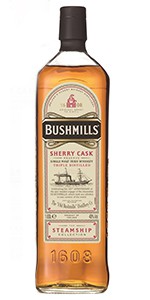 February 17, 2016 – While Irish Whiskey has been one of the fastest-growing segments of the whisky industry, Ireland's oldest distillery has been largely on the sidelines until now. Just a few days short of one year after acquiring the Old Bushmills Distillery and the Bushmills Irish Whiskey brand from Diageo, Casa Cuervo and the Beckmann family are now turning longtime master distiller Colum Egan and master blender Helen Mulholland loose to create new expressions for the first time in several years. The result is the Steamship Collection, the first Bushmills range geared exclusively to the travel retail market, with the Sherry Cask Reserve as the first expression in the series. The whiskey is matured exclusively in first-fill Oloroso Sherry butts, bottled at 40% ABV, and marks the first new Bushmills release since the 2012 release of the Bushmills Irish Honey liqueur.
"It's a very exciting time for us here at Bushmills…now that we're under Cuervo ownership, I think we're getting back to our innovative roots," Colum Egan said in a telephone interview. "We were always kind of very famous for our different and great tasting whiskies, so I think this is the first of many to come." The Steamship Collection was inspired by the 125th anniversary of the launch of the SS Bushmills, a steamship commissioned by the distillery's owners in 1890 to deliver Bushmills whiskey around the world and return with casks of other spirits for use in maturing future whiskies. The Sherry Cask Reserve is the first of three planned permanent expressions in the range, which will also be expanded with occasional special releases. While the new release will be available initially at airport shops in Dublin, Belfast, and London's Heathrow Airport, Egan disclosed that there are plans to make it available at New York City's airport shops soon. The one-liter bottles will carry a recommended retail price of  €80 (around £65 GBP or $90 USD).
During the ten years that Diageo owned Bushmills before trading it to Casa Cuervo for full control of the Don Julio tequila brand and $408 million (USD) in cash, the brand fell from second to third in global Irish whiskey sales behind Jameson and Tullamore D.E.W., as Diageo executives decided to focus largely on the core Bushmills range at a time of renewed interest in Irish Whiskey innovation. The last new whiskey released by Bushmills came in 2008 with the release of Bushmills 1608 to celebrate the 400th anniversary of whiskey distilling in the area around the Old Bushmills Distillery in County Antrim. Under the new ownership, that is expected to change, and Egan acknowledged that several other new releases are in the development pipeline – without giving specifics. "We do have the whiskey sitting in the warehouse, and us here at the distillery are just perfecting what the final taste or character is going to be at the moment," he said.
Listen to Mark Gillespie's interview with Colum Egan:

In addition to the green light for new product development, the new owners are preparing to invest significantly in expanded production and tourism development. As first reported on WhiskyCast in December, Bushmills has applied for planning permission to build a £30 million GBP ($46 million USD) addition to the current distillery that will double the production capacity. Egan expects that process to take around a year before construction can begin, but work will begin in April on two new maturation warehouses to be completed by September. In addition, plans are in the works to update the current visitors center at Bushmills, which now receives around 120,000 visitors each year. "We want to increase the enjoyment of that tour and experience all the time," Egan said, noting that "there's some exciting proposals in the pipeline as well."
Links: Bushmills