While Buffalo Trace is not commenting on reports that a so-called "Baby Stagg" version of its George T. Stagg Bourbon is in development, public records available from the U.S. Treasury Department's Tax & Trade Bureau web site indicate that a lower-proof version of Stagg is close to being released.  These images are taken from Buffalo Trace's application for label approval filed with the TTB on December 12, 2012 and approved on January 18, 2013.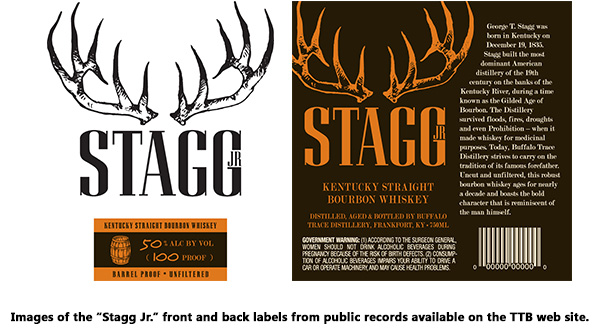 George T. Stagg is one of the whiskies in the Buffalo Trace Antique Collection series released each autumn, and is one of the highest-proof Bourbons available with ABV strengths as high as 71% in some years. It is named for the original founder of what is now known as the Buffalo Trace Distillery in Frankfort, Kentucky.
The demand for Stagg and other whiskies in the Antique Collection would indicate a demand for a Bourbon with the same intense flavor characteristics as Stagg, but in a lower proof that would allow it to be more widely available. In Episode 415 of WhiskyCast (March 10, 2013), Buffalo Trace Master Distiller Harlen Wheatley acknowledged the information available on the Internet. "We are working on new brands, and uh, that's a great idea, a Baby Stagg, and it's exciting, but that's about all I can tell you…it's stuff we're working on."
It should be noted that while label approval from the TTB is required before a whisky or other distilled spirit can be released for sale, applying for and receiving label approval does not automatically mean that that spirit will be produced.
Links: Buffalo Trace | Tax & Trade Bureau