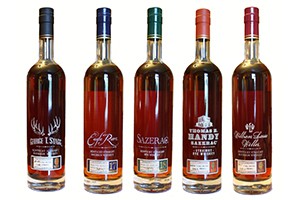 September 8, 2015 – While not as widely anticipated worldwide as Apple's announcement of new iStuff tomorrow, whiskey fans have been waiting for word on this year's Buffalo Trace Antique Collection whiskies. That word came today, with the five expressions in the annual series to be available at retailers later this month.
The flagship of the series remains the George T. Stagg Bourbon, uncut and unfiltered as always with a proof of 138.2º (69.1% ABV). The 2015 edition comes from 128 barrels filled in the spring of 2000, but according to the distillery, some of those barrels were nearly empty when dumped this year with only one or two gallons left. While the size of this year's batch is similar to previous years, the yield was substantially less due to evaporation and Buffalo Trace says fewer bottles will be available this year as a result.
This year's Sazerac Rye 18 Year Old will be the last of its kind. Buffalo Trace disclosed recently that the last several years' releases of this straight rye whiskey have all come from a batch of fully matured whiskey that was placed into a stainless steel tank several years ago to prevent further aging, with each year's release being pulled from that tank. The 2015 release will be the last to come from that batch, with the 2016 release to come from barrels filled in 1998 and currently maturing in the Buffalo Trace warehouses.  The 2015 Eagle Rare 17 Year Old is also different from last year's release — in that it's actually 17 years old. The 2014 edition was closer to 19 years old.
This year's William Larue Weller wheated Bourbon is described by Buffalo Trace as one of the stronger Weller releases yet, with a proof of 134.6º (67.3% ABV). The whiskey was distilled in the spring of 2003, and as always, is uncut and unfiltered. The 2015 edition of the Thomas H. Handy Sazerac Rye is the youngest of the bunch as usual, and was distilled in the spring of 2009. Also uncut and unfiltered, it comes in at 126.9º proof (63.45% ABV).
All five whiskies in the Antique Collection will carry a recommended retail price of $80, though actual retail prices are likely to be higher and will vary by market.
Links: Buffalo Trace