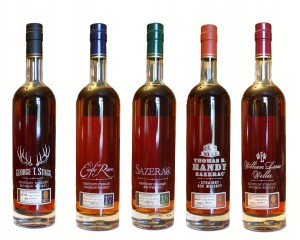 September 4, 2014 – Buffalo Trace has unveiled the five whiskies in this year's Antique Collection series of limited-edition whiskies, which will be available at selected retailers later this month. The collection includes the award-winning George T. Stagg Bourbon, bottled at 69.05% ABV from casks filled in the spring of 1998 and maintaining Stagg's tradition as an uncut, unfiltered whiskey.
The 2014 William Larue Weller wheated Bourbon is the strongest Weller in the 14 years of the Antique Collection, with a strength of  70.1% ABV from casks filled in 2002. The Thomas H. Handy Sazerac Rye, like the Stagg and Weller whiskies, is also uncut and unfiltered, and is bottled at 64.6% ABV from casks filled in 2008.
Rounding out the Antique Collection are the Eagle Rare 17-year-old Bourbon and Sazerac Rye 18-year-old whiskies. All five will sell for a recommended retail price of $80 each, and will be available in limited amounts.
Tasting notes for the Antique Collection whiskies will be available at a later date at WhiskyCast.com.
Links: Buffalo Trace | Antique Collection