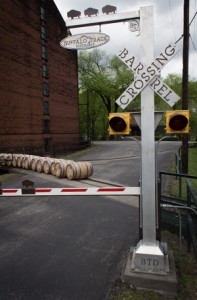 October 29, 2013 – The latest Experimental Collection release from Buffalo Trace compares a little-considered factor in the final taste of a whisky — the length of time barrel staves are allowed to dry before being made into a barrel.
15 years ago, Buffalo Trace commissioned two sets of barrels from Independent Stave Company. One set had the distillery's standard specification of 6 months of seasoning, while the second set was allowed to dry for 13 months. Both sets of barrels were filled with the standard Buffalo Trace rye-based spirit and left to mature in the same warehouse. Regular sampling from both sets showed a striking difference in flavor, according to Master Distiller Harlen Wheatley. In a news release, he said the result for the standard barrels was a Bourbon with flavors of caramel, vanilla, and oak.
"We've found the six months allows our wood to season and bring enzymes to the surface that allow the wood to produce just the right amount of tannins and wood sugars during the charring process. This allows for the alcohol to extract those flavors efficiently while aging. In this experiment, we wanted to explore the changes as the stave drying time was increased from our 'standard' six month stave drying to 13 months of stave drying time. The differences were marked, with the longer stave drying time yielding a sweet, but robust flavor."
Both sets of barrels have now been bottled as part of Buffalo Trace's Experimental Collection series, with 375ml bottles of each to be available at whisky specialist retailers starting in November at a recommended retail price of $46.35 each.
Links: Buffalo Trace