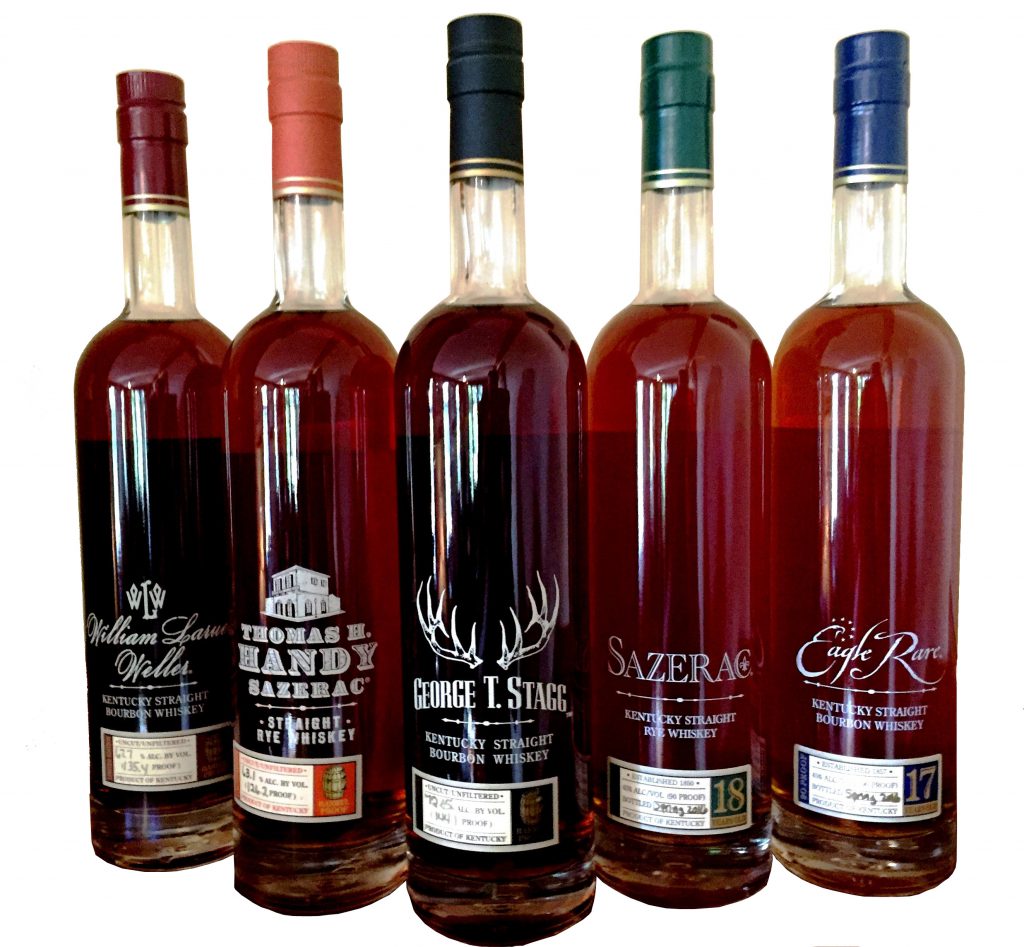 September 7, 2016 – Buffalo Trace is out with the 2016 edition of its highly-regarded Antique Collection, including the first new edition of 18-year-old Sazerac Rye in several years. For the past several years, Buffalo Trace has relied on a large batch of 18-year-old Rye that's been kept in stainless steel tanks, meaning only minor changes from year to year due to small amounts of oxidation. Now, the distillery has "fresh" Rye distilled in April of 1998 available and is using that whiskey for this year's Sazerac 18, and future editions will follow the same pattern.
The flagship whiskey of the Antique Collection is the George T. Stagg Bourbon, and this year's edition is one of the strongest in years at 72.05% ABV (144.1 proof). The uncut and unfiltered Stagg comes from 142 barrels filled in the spring of 2001, and while Buffalo Trace has been filling more barrels earmarked for Stagg over the last decade, the distillery is blaming "greedy angels" for high evaporation rates in this year's batch. While Buffalo Trace is not disclosing the exact number of bottles that will be available, the distillery is warning that low yields will make it harder than usual to find the Stagg at retailers.
In previous years, the Eagle Rare 17 has actually been closer to 19 years old than the 17 years listed on the label (it's perfectly legal to put a younger age statement on a Bourbon than the actual age of the youngest whiskey in the bottle). However, this year's version is actually 17 years old, and as always, is bottled at 45% ABV.
The 2016 edition of the William Larue Weller wheated Bourbon – as with the Stagg – is one of the stronger Wellers on record at 67.7% ABV (135.4 proof). It's a 13-year-old uncut, unfiltered Bourbon made with a wheat-focused mashbill in the spring of 2003. The collection is completed with the uncut and unfiltered Thomas H. Handy Sazerac Rye – the youngest in the series at six years old. This year's edition was distilled in the spring of 2010, and was bottled at 63.1% ABV (126.2 proof).
All five whiskies will be available at retailers starting in late September, and will have a recommended retail price of $90 each. However, expect retailers to charge a premium for the Stagg, Sazerac 18, and William Larue Weller whiskies based on experience from previous years.
Tasting notes for all five whiskies will be available soon at WhiskyCast.com.