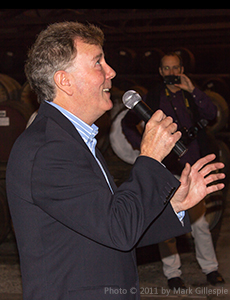 April 24, 2015 – If you're one of the 500 people with tickets for Jim McEwan's master class during Bruichladdich's open day next month during the Islay Festival of Malt & Music, (or the 380 currently on the waiting list), bring your handkerchief and prepare to shed a few tears. McEwan has announced his plans to retire in July after 15 years at Bruichladdich and 52 years in the Scotch Whisky industry.
"It's a job complete, you know…I've been doing this a long time, but I've got a feeling I've never had before, and that feeling is the journey's over, you've done it, you've survived…you're leaving behind something really worthwhile in a small community…we've got 80 jobs here now, and that's phenomenal. It's time to move on and focus on the bits you've missed."
"It's going to be emotional, that's for sure," McEwan said in a telephone interview today. He plans to bring back the "Three Musketeers" who were at Bruichladdich when he was recruited by Mark Reynier in 2000 to help bring the distillery back to life. Duncan McGillivray, Duncan "Budgie" Mcfadyen, and John Rennie had kept the distillery in mothballs after it closed in 1994. "Guess who's got the best seats in the house…these three guys, and I've got one or two surprises for them as well just to say thank you…the passion that they showed me when I walked through the gates, it was their passion and their belief that we could make it happen that turned me around."
McEwan is 67 years old, and had originally committed last year to remain at Bruichladdich through 2016. However, the lure of his grandchildren persuaded him to retire a year earlier. "I traveled so much and done so many things…I missed out on my own family, so I'm certainly not going to miss out on my grandchildren, that's for sure," he said. His four grandchildren live in Glasgow with Jim and Barbara McEwan's two daughters and their husbands, but Jim plans to have them spend summers on Islay. "We'll go walk on the beaches and we'll gather crabs and we'll sail boats down the river and that sort of stuff…it's really important to me and our family that they get that Islay DNA."
He's leaving the distillery's DNA in the hands of distillery manager Allan Logan and incoming master blender Adam Hannett, both of whom McEwan considers to be as close as sons and has mentored as they worked their way up through the ranks at Bruichladdich. "Adam is going to be a perfect running mate for Allan, and together these two, they're best buddies and that's really important…you always need a running mate…I had Duncan McGillivray as my running mate in a similar situation…total respect for each other," he said.
Listen to this week's WhiskyCast for our interview with Jim McEwan.
Links: Bruichladdich web site