February 19, 2016 – A day after Compass Box launched its online petition drive aimed at persuading European Union and UK regulators to change existing laws limiting the details it can disclose about the component whiskies in its blends, more than 3,000 people have signed the petition and another Scotch Whisky maverick has thrown its support behind the campaign. Islay's Bruichladdich Distillery endorsed the campaign in a post on the distillery's web site today with a promise to follow in Compass Box's footsteps, regardless of whether it violates EU and UK laws.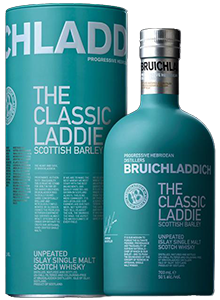 "We believe that our customers should be able to find out the age, provenance and proportions by volume of all the casks that make up the different vattings of The Classic Laddie, bottles of which do not carry an age statement. The age and origin of all the various casks used in every vatting to date and every future vatting, will be published as a menu on www.bruichladdich.com. During April 2016 we will provide a new field on The Classic Laddie product page of our website.  Every bottle we have ever produced carries a simple batch code.  If you enter this code into the field it will list the component casks. Every vatting of The Classic Laddie has been created using a different suite of casks and therefore every batch code will give different results. We celebrate natural whisky and variety."
Rémy Cointreau-owned Bruichladdich, like Compass Box, is not a member of the Scotch Whisky Association and has had its own differences with the trade group in the past. The distillery came under fire from the SWA in 2006 for producing X4, a quadruple-distilled whisky that was filled into casks at an eye-popping 90% ABV, which the association deemed at the time as "irresponsible." So far, Tomatin Distillery is the only SWA member to publicly endorse a change in the standards, which it did in a post on its web site last November.
The debate over age statement disclosures began at that time, when Compass Box was forced to withdraw the original marketing materials for the 15th anniversary edition of Flaming Heart and "This is not a luxury whisky" for running afoul of regulations on what can legally be disclosed about the whiskies that make up a specific blend. Regulations dating back more than 30 years specify that if a whisky (or any other aged spirit) carries an age statement, it can only disclose the age of the youngest whisky used in that bottling. The marketing materials for both whiskies, as with many other previous Compass Box releases, gave specific details on the ages of each cask used in both whiskies, but was withdrawn after the Scotch Whisky Association received a complaint from an unidentified executive at a SWA-member company. The association warned Compass Box that it could potentially face legal action for violating the UK's Scotch Whisky Act of 2009 and European Union laws established in the 1980's after abuses within the industry.
SWA chief executive David Frost said in a statement released Thursday that the trade group has seen no consensus on whether it should lobby UK and European regulators for a change in the current standards, noting that its role in the current situation was to ensure industry compliance with those standards. The SWA has no enforcement powers of its own, and any legal action would have to be initiated by HM Revenue & Customs in the UK or regulators in another European Union member nation. Changing the current EU regulations would require unanimous consent from all 28 member nations.
Links: Compass Box | Bruichladdich | Scotch Whisky Association