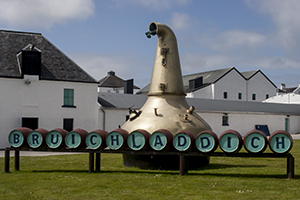 March 11, 2014 – Bruichladdich is taking its core range out of retail markets around the world because of supply problems, but will continue to make the Laddie Ten, Laddie Sixteen, and Laddie Twenty-Two expressions available through the distillery's online and Islay shops. During an interview with Bruichladdich executives Monday in New York City, chief executive Simon Coughlin explained the problem as one of too much demand and not enough supply.
"They've always been on allocation, ever since we released the first Ten, which as you know was a celebration of the tenth anniversary of the reopening of the distillery (2011)," Coughlin told WhiskyCast's Mark Gillespie. "They've always been on allocation, right up until now, and we are moving into a slightly different world, where with global allocations and global markets, it's going to be difficult to sustain it everywhere…you wind up giving everyone a few hundred cases, and it's not enough for them to get their teeth into." Bruichladdich was acquired by Remy Cointreau almost two years ago, and is gradually moving away from independent distributors in many key markets into Remy's global distribution system. As part of that process, the goal will be to make more product available in Bruichladdich's strongest-selling markets, including the US. Remy Cointreau USA took over US distribution of Bruichladdich from Winebow in January, and the distillery executives were in New York for meetings with their new colleagues.
The distillery will continue to make its Laddie Classic available to retailers, along with the latest Octomore 6.1 peated single malt, Black Art 4, and Port Charlotte expressions. Coughlin did not rule out bringing back the Laddie Ten at some point in the future, reminding the distillery's longtime fans that "it's like everything at Bruichladdich, it's a moveable feast."
On another note, the distillery is expected to resume production around the end of March after being shut down since December because of a mechanical problem with the distillery's traditional cast-iron mash tun. Production Director Jim McEwan said the teeth inside the tub that are used to guide the rake that stirs mash during cooking had worn out, and denied rumors of an explosion inside the   distillery.
"I don't really know where the rumors came from, because we've got web cameras everywhere and you can watch the mash tun being taken out piece by piece…the old lady decided it was time to get her teeth done."
McEwan explained that the tun had been in use since 1881, and with only one remaining company in Scotland capable of doing the custom casting work needed for the repairs, the distillery had to go on a waiting list. "It had to be done, because the rigging gear was refusing to work…now that's really dangerous because if the teeth slip and the whole thing crashes in, you can never, ever recast the whole mash tun." McEwan said the thought of replacing the vintage tun with a modern lauter-style tun was never considered, even though it might allow them to produce more mashes. "We actually love the mash tun and the speed at which it goes at that takes us six and a half hours to do a mash…we don't care, it's not about time, it's a slow process to strain the sugars out gently."
McEwan and Coughlin say the shutdown will not affect the distillery's plans to double production this year to more than 1.5 million liters of alcohol. The distillery has not been run at full capacity since it reopened in 2001, and they say the lost time can be made up by adding several hours of distilling time each week if necessary.
Editor's note: This story was changed to correct the start of Remy Cointreau USA's distribution of Bruichladdich from April 1 to January 1, 2014. 
Links: Bruichladdich