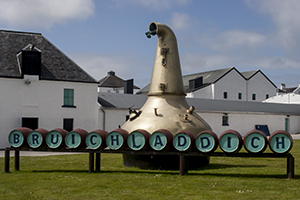 June 14, 2013 – Rémy Cointreau-owned Bruichladdich will end its UK distribution deals with Blavod Wines & Spirits and Gordon & MacPhail as of July 1 to bring its UK supply network in-house.
Blavod announced its plans Friday to stop distributing Bruichladdich's whiskies in the UK as part of a plan to grow its own portfolio following the acquisition earlier this week of the Blackwood's gin and vodka brands. However, Just-Drinks.com reports Bruichladdich initiated the move, and will create its own distribution company as of July 1, 2013, when the deal between Bruichladdich and Blavod expires. Bruichladdich UK will handle distribution for the company's Bruichladdich, Octomore, and Port Charlotte single malts, and will also take over distribution of The Botanist gin from Gordon & MacPhail. The move will bring all of Bruichladdich's brands into one UK sales network for the first time.
The move is the latest in what appears to be a growing trend among whisky producers to bring their distribution networks in-house instead of working with potential competitors. Earlier this week, Edrington Group confirmed that it will take over US distribution of its Scotch whisky and rum portfolio from Rémy Cointreau's US unit next spring, in a move that was widely expected after Rémy's $90 million acquisition of Bruichladdich last year. While Bruichladdich managing director Simon Coughlin told WhiskyCast's Mark Gillespie in a recent interview that there is no rush to move its whiskies into Rémy's global distribution network, it would be logical to expect such a move in the future.
"There are a number of contracts in place, and were many, many countries that we didn't have contracts, so we're going to work with our partners that we've had for many years and we'll come to solutions. But, you know, it would seem unreasonable if you have a distribution chain around the world why you wouldn't use it."
Distribution companies are often referred to as importers when dealing in spirits outside their home country. In the Bruichladdich UK case, the unit will be responsible for sales and marketing of Bruichladdich's portfolio on the wholesale level and working with bars and retailers. In the US, a distribution company/importer serves as the distiller's representative, arranging for shipments, customs clearance, marketing and advertising, and managing contracts with distributors in each state. Those distributors supply stock to bars and retailers under the US-specific "three-tier" system for liquor distribution. In many cases, the US-based company is a wholly-owned subsidiary of the distillery owner.
Links: Bruichladdich | Blavod Wines & Spirits