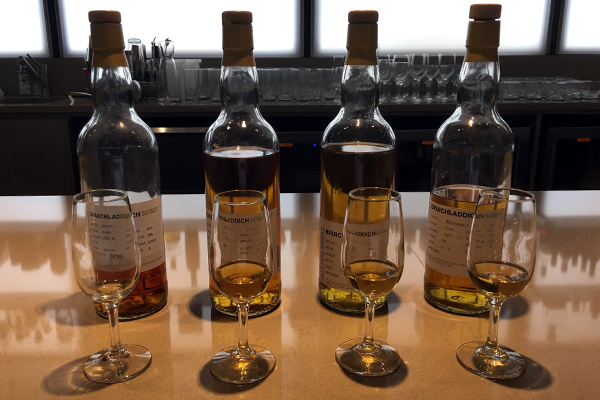 November 4, 2016 – While Bruichladdich master blender Adam Hannett was in New York City this week for a series of tastings around Whisky Advocate's annual WhiskyFest, his colleagues on Islay were busy bottling the distillery's largest batch of new releases since Rémy Cointreau acquired Bruichladdich in 2012. New 10-year-old bottlings of Bruichladdich, Port Charlotte, and Octomore will appear on retail shelves over the next several weeks, along with a 25-year-old exclusively for the travel retail market and Hannett's first version of the Black Art single malt. The mysterious whisky has been the lone counterpoint to Bruichladdich's well-known openness since the distillery reopened in 2001, with only the age of the youngest cask in the blend and the bottling strength being disclosed.
"The Black Art is a huge quality whisky, and for me to take over that role from Jim (McEwan)…this was quite a symbolic one," Hannett said during an interview at the bar in Rémy Cointreau's New York office. Longtime Bruichladdich production director and master blender Jim McEwan created the Black Art range in 2009, and only after Hannett was identified as his eventual successor did McEwan pass along his secret recipe for creating Black Art. According to Hannett, when McEwan retired two years ago, he left behind a note with his original plan for Black Art 5. Hannett decided to ignore that plan and create his own take on Black Art. "I can tell you it'll give you a lot of sleepless nights," he laughed, while disclosing only that the youngest whisky was distilled in 1992 and it's been bottled at 48.4% ABV. 12,000 bottles of Black Art 5.1 will be available worldwide with a recommended US retail price of $399.
Listen to Mark Gillespie's interview with Adam Hannett:

The Laddie Ten returns for the first time since it was discontinued in 2014 because of supply shortages, along with 10-year-old versions of the heavily peated Port Charlotte and even more heavily peated Octomore. 18,000 bottles of each edition will be available globally, and Hannett said the releases reflect a change in Bruichladdich's philosophy. "Rather than getting stuck in the idea that because we can't continue it, maybe we can do 10-year-old…we only have a certain amount, we can't continue that release so we can't do it —  we started thinking, well…that's interesting, people want to taste it, we want to have it out there, so let's release it," he said.
The Laddie Ten's Second Limited Edition has been tweaked slightly from the original, with an increase in bottling strength to 50% ABV – up from 46% in the original, and will carry a recommended US retail price of $66 per bottle. The Port Charlotte 10 is also bottled at 50% ABV, and is the second 10-year-old release of Port Charlotte following the 2012 release of Port Charlotte PC10. It will carry a recommended US retail price of $72 per bottle. The Octomore 10 is also the second 10-year-old release of Octomore, and is peated at 167 parts per million of phenols. It will have a recommended US retail price of $234 per bottle.
The Bruichladdich 25 Year Old Sherry Cask will be available exclusively in the travel retail market. Pricing and initial availability have not been announced yet.
Tasting notes will be available soon at WhiskyCast.com.
Links: Bruichladdich