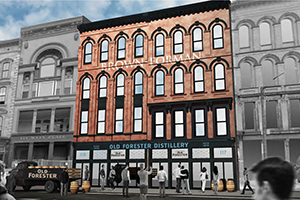 September 25, 2014 – Brown-Forman will expand its distilling capacity by returning to the company's roots, with plans to turn two Whiskey Row buildings that originally housed Brown-Forman operations into a new Old Forester Distillery. The $30 million dollar project will occupy buildings that served as offices and maturation warehouses before Prohibition, and is expected to be completed in the fall of 2016. The buildings had been used for a variety of purposes until they were abandoned in the 1980's, but will be completely rehabilitated as part of the construction project. The site is located at 117 and 119 West Main Street, near the Interstate 65 bridges and between the KFC-Yum! Center arena and the Louisville Slugger Field baseball stadium.
"To tour these buildings with hard hat and flashlight and know that these wooden floors and these walls were what our industry was like 100-plus years ago and just imagine all of the activity that went on is really neat," Brown-Forman Master Distiller Chris Morris said in a telephone interview. "It's going to be great to see it brought back to life." Brown-Forman reacquired the buildings several years ago, and plans for the new distillery have been quietly in the works since that time.
Listen to Mark Gillespie's interview with Chris Morris:

Old Forester is currently distilled at the Brown-Forman Distillery located on Louisville's west side, along with Early Times and most of the whiskey used for Woodford Reserve. The brand has seen double-digit growth in recent years, according to Brown-Forman, and Morris said the new distillery will essentially double production of Old Forester with the equivalent of 100,000 nine-liter cases of whiskey a year at full production. The new distillery will augment Old Forester production at the current Dixie Highway facility, but will also include a visitors center and tours not currently offered at the Brown-Forman Distillery. The distillery will include a "barrel-raising" cooperage using components trucked over from the Brown-Forman Cooperage on the city's south side, along with complete distilling, maturing, and bottling facilities on-site.
Ground-breaking is expected in early 2015, according to Morris. Preliminary work to stabilize the buildings has already begun, but final permits for the project are still being sought. As with all of the historic Whiskey Row buildings from the pre-Prohibition period, no distilling was ever done at the site, but the neighborhood was home to blending, maturation, and bottling work as well as serving as the headquarters for Brown-Forman and other whiskey companies of the time.
Brown-Forman has already received approval for up to $1.3 million dollars in tax rebates and incentives from the Kentucky Economic Development Finance Authority. The project will also be eligible for tax credits under a new state law approved earlier this year that allows whiskey companies to claim a credit against their Kentucky corporate income taxes against the local "ad valorem" taxes they pay on maturing barrels of whiskey, as long as the credits are reinvested on capital projects within the state.
Links: Brown-Forman | Old Forester