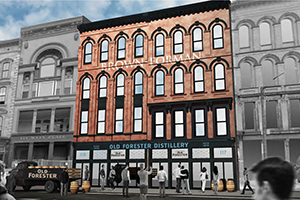 July 20, 2015 – Two weeks after a four-alarm fire ripped through the historic whiskey warehouses on Louisville's Main Street, Brown-Forman plans a groundbreaking ceremony next door for the $45 million dollar Old Forester Distillery and visitors center project. The ceremony is scheduled for Wednesday at the "Whiskey Row" site, which received only minor damage in the fire that caused extensive damage to the 111 Whiskey Row development that Brown-Forman and members of the Brown family are investing in.
The Old Forester Distillery project is separate from the 111 Whiskey Row development, and was announced last September. Brown-Forman plans to build the distillery on the site at 117 and 119 Main Street using two historic buildings that were used as whiskey warehouses between 1857 and the Prohibition Era. The building will also house a visitors center for Old Forester, which will continue to be produced at Brown-Forman's main distillery on Dixie Highway on Louisville's west side. The new distillery will eventually replace much of the Old Forester production at the Dixie Highway facility, and will include a cooperage, bottling line, and maturation warehouse space when it opens in early 2017.
The project is just one of several distilleries planned as part of the revival of Louisville's Whiskey Row. Heaven Hill's Evan Williams Bourbon Experience opened in 2013 at the western end of Main Street, and the Peerless Distilling Co. began production earlier this year nearby at the corner of 10th and Main. That end of Main Street is also home to the historic building being renovated as a small-scale distillery and visitors center for Michter's, while construction has started at the eastern end of Main Street for the new Louisville Distilling Co./Angel's Envy distillery. At its peak in the late 1800's, Main Street was home to dozens of whiskey warehouses and offices for whisky distillers and bottlers, though historians note that no distilleries were ever located on "Whiskey Row" at the time.
Editor's note: This story was updated with new details on the timetable for opening the distillery and production plans announced as part of the July 22 groundbreaking. 
Links: Old Forester