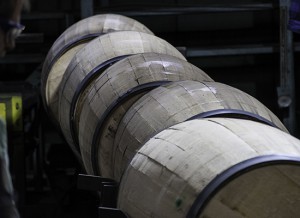 April 11, 2016 – Brown-Forman is the only U.S. distiller that operates its own cooperages, and the Louisville-based company has decided to name its newest Bourbon brand in honor of the workers at its original cooperage on the city's south side. When it is released this summer, Coopers' Craft will be Brown-Forman's first new Bourbon brand since the launch of Woodford Reserve in 1996.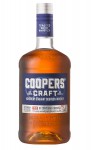 "With some of our existing brands like Woodford and Old Forester, we had always had innovation throughout the process working with the master distillers on the barrels…whether it was longer toasting times, different charring times, whether we worked with maple wood or other things,"  said Brown-Forman Cooperage general manager Greg Roshkowski during a telephone interview. " Instead of a brand extension for one of those existing brands, Roshkowski said company executives decided to create a new brand around his team. "Let's focus on a new brand that really pays tribute to the people at the cooperage and the cooperage and understands how the flavor and the color all comes from that barrel."
Brown-Forman acquired a former furniture factory in 1945 and converted it into the Blue Grass Cooperage. In 2009, the facility was renamed the Brown-Forman Cooperage and continues to produce barrels for all of its whiskey brands at the site 71 years later, building around 2,500 barrels per day. The company opened a second cooperage in Alabama last year to produce barrels primarily for use at the Jack Daniel Distillery in Tennessee.
The whiskey for Coopers' Craft is distilled at Brown-Forman's main distillery in Louisville, and goes through a unique finishing process using a filter made from beech and birch charcoal. Coopers' Craft will be bottled at 41.1% ABV and will go on sale in Kentucky and seven other southeastern U.S. states this summer with a recommended retail price of $28.99 per 750ml bottle. The whiskey will likely be available in additional markets over time, but a Brown-Forman spokeswoman says no firm plans have been determined.
Editor's note: For an audio tour of the Brown-Forman Cooperage, listen to Episode 305 of WhiskyCast as plant manager Greg Roshkowski takes us through the facility. This story was edited to include comments following an interview with Roshkowski and correct details on the opening of the cooperage in 1945. 
Links: Brown-Forman