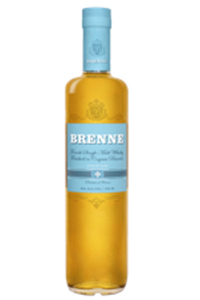 July 30, 2013 – Less than a year after Allison Patel entered the U.S. market with Brenne Estate Cask single malt whisky from France, she has signed a national distribution deal with Martignetti-owned Classic Imports, the same company that handles distribution for Gordon & MacPhail and other major spirits producers. Patel launched Brenne in October of 2012 through her own importing company, Local Infusions, but saw demand for the Cognac-finished single malt exceed her ability to supply the market.
In a news release, Patel cited Classic Imports' ability to help Brenne enter more markets in the U.S. as one of the reasons for the new partnership.
"This partnership between Brenne and Classic Imports will strengthen our ability to reach more Brenne-thirsty fans while continuing to build the momentum in our existing markets. We truly believe that Classic Imports is the perfect partner to take Brenne to the next level and are looking forward to a very long and successful partnership."
As she explained in Episode 431 of WhiskyCast last month, Brenne is produced by a Cognac distiller in France, and matured in new French Limousin Oak casks before finishing in ex-Cognac casks used previously for maturing the estate's Cognac. Mark Gillespie's tasting notes for Brenne Estate Cask are available here at WhiskyCast.com, and Brenne was also part of the April 2013 episode of WhiskyCast Virtual Tastings.
In addition to serving as an importer nationally, Classic Imports also serves as a distributor in the Northeast U.S. for many of its brands, including Gordon & MacPhail.
Links: Brenne Estate Cask | Classic Imports