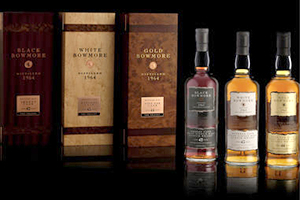 February 28, 2014 – A complete set of the 2007-2009 Bowmore Trilogy series brought the high bid at Bonhams during Wednesday's auction of rare whiskies in Edinburgh. The Black, White, and Gold Bowmores from 1964 sold for £16,250 ($27,166 USD), including premiums. The range was released over three years, starting with the 42-year-old Black Bowmore in 2007. The White Bowmore was released in 2008, and the Gold Bowmore completed the trilogy in 2009. By comparison, a single 1995 bottling of Black Bowmore from the original series of releases in the mid-90's went for £4,375 ($7,300 USD).
The runner-up was a 55-year-old Macallan Lalique decanter from the Six Pillars series that brought a winning bid of £12,500 ($20,897 USD). A 1938 Macallan bottled by Gordon & MacPhail went for £5,625 ($9,400 USD), while a Macallan Select Reserve 52-year-old distillery edition from 1946 sold for £4,750 ($7,940 USD).
The next Bonhams auction will be in New York City on April 29.
Links: Bonhams