June 26, 2014 – Bardstown, Kentucky claims the title of "Bourbon Capital of the World", with the trademark to prove it. Now, Bardstown will be getting a third Bourbon distillery with the construction of the $25 million dollar Bardstown Bourbon Distillery. Construction on the distillery is expected to begin this summer on a 100-acre site in the Nelson County Industrial Park on Bardstown's east side along the Martha Layne Collins Bluegrass Parkway.
The distillery will receive approximately $1.3 million dollars in tax rebates and economic development incentives from the Kentucky  Economic Development Finance Authority, according to a news release from Governor Steve Beshear's office. The project is expected to create 35 full-time jobs when it opens in 2016, and will be the fifth active distillery in Nelson County when it begins production — joining Barton 1792 and Willett in Bardstown, the Jim Beam Distillery in Clermont, and Maker's Mark in Loretto.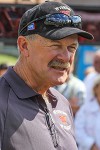 Guiding the progress will be two familiar faces in the Bourbon industry. Bourbon Hall of Fame distiller Steve Nally left his master distiller's position at Wyoming Whiskey earlier this year to return to Nelson County with his wife Donna, and will be the master distiller. Longtime distillery veteran and consultant Pete Kamer will serve as a consultant on the project, bringing nearly 40 years of experience in the whiskey industry with him.
Listen to Mark Gillespie's interview with Steve Nally:

The distillery's backers are including a visitors center in their plans, and will work with Bardstown-area restaurants to include culinary elements in the project as well.
Editor's note: This story was updated to include audio from our interview with Steve Nally.