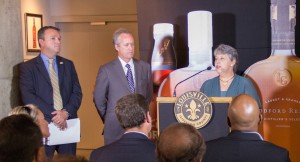 September 25, 2013 – A new study by the University of Louisville's Urban Studies Institute links the Kentucky Bourbon industry to at least 4,200 jobs in the Louisville Metro area, with an estimated annual economic impact of at least $300 million. The study cites payroll impacts of $263 million, along with annual tax revenue of $32 million. That doesn't include at least $50 million in new capital projects, including downtown visitor attractions for Heaven Hill and Michter's and the new Louisville Distilling Company distillery on the east end of Main Street.
"It means growth in jobs, it means growth in underlying sectors that are affected…transportation, warehousing," Janet Kelly, Ph.D. of the Urban Studies Institute told WhiskyCast's Mark Gillespie following a news conference at Brown-Forman's Louisville headquarters on September 20.
"It's probably one of the purest punches for economic development that we have because it's a net export industry. We sell most of the Bourbon that's produced outside the region, and that has a powerful economic multiplier effect."
Louisville Mayor Greg Fischer praised the study as confirming his city's status as the "Bourbon Capital of the World," with no apologies to Bardstown, Kentucky — which has claimed that title for many years. "40% of the Bourbon industry's jobs – direct and indirect – come out of Louisville, so it's a big thing for us," he said in an interview. "It's also very important in terms of cultural tourism, Bourbon heritage really helps drive our restaurant industry, our hotel industry, our tourism industry as well, and the businesses in this industry are tremendous corporate citizens…a lot of philanthropy flows out of them, and they're also world-class in terms of their business techniques…a lot of the great leaders in our city come from the Bourbon industry."
The study was commissioned by the Kentucky Distillers Association, and was the KDA's first study on the industry's economic impact on a local region of the Commonwealth instead of the statewide impact. While the region has lost approximately 10% of its jobs over the past five years, the distilling industry has increased its work force by 10%, and the increase in Bourbon-related tourism has helped preserve jobs in the city's hospitality industry. While the Kentucky Derby remains Louisville's single biggest tourism attraction, the study found Bourbon-relatred tourism generates a year-round impact.
"We've seen a surge in visitors, and not just more visitors, but more visitors that are genuinely interested and more visitors that are traveling great distances to soak up the culture of Kentucky, and a big part of that is Bourbon," Maker's Mark president and KDA board member Rob Samuels told WhiskyCast. While the Maker's Mark Distillery is located south of Louisville in Loretto, the company's management and sales teams are based in Louisville.
The growth in Louisville was one of the key reasons for Louisville Distilling Company to locate its new distillery at the east end of the city's historic "Whiskey Row" along Main Street, according to company president Wes Henderson.
"It was really kind of a no-brainer for us," Henderson said of the decision to build in downtown Louisville. "When we started looking at the different locations, I was a little fascinated originally with some of the historic locations like the Old Taylor Distillery and other romantic abandoned properties, but when we looked at the dynamics that were happening in downtown Louisville and the sheer numbers of people that were coming here, it just really made sense to locate it here."
The distillery is expected to begin production for Angel's Envy Bourbon by the end of 2014 in what previously was an abandoned warehouse and industrial complex on Main Street near Louisville Slugger Field. In addition, the Evan Williams Bourbon Experience visitors center will open on Main Street in November, and restoration work continues nearby on the historic building slated to become home to a micro-distillery and visitor attraction for Michter's. An announcement is expected soon on another micro-distillery project for the downtown area as well.
The complete study is available through the Kentucky Distillers Association web site. Additional information on this story is available in Episode 443 of WhiskyCast.
Links: University of Louisville Urban Studies Institute | Kentucky Distillers Association | Maker's Mark | Angel's Envy | Evan Williams Bourbon Experience | Michter's