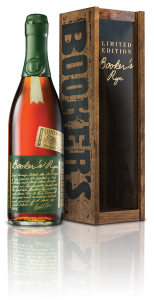 May 12, 2016 – Booker Noe preferred his Bourbon uncut and unfiltered…straight from the barrel whenever possible. In 2003, a few months before his death in 2004, a small batch of Rye whiskey distilled to Booker's specifications was laid down to mature in his favorite warehouses. Now, that whiskey has been bottled as what's being called the "once in a lifetime" Booker's Rye. As with the Booker's series of Bourbons, the Rye is uncut and unfiltered at 68.2% ABV (136.4º proof), but unlike the Bourbons, Booker's Rye will carry a recommended retail price of around $300 per bottle.
Booker's son, seventh-generation Beam master distiller Fred Noe, bottled the 13-year-old whiskey at the Jim Beam Distillery in Clermont, Kentucky on Tuesday. The bottling followed last week's ceremony to mark the filling of the 14 millionth cask of whiskey distilled by Beam in Kentucky since the end of Prohibition. Two years ago, Noe bottled his father's final batch of Bourbon for what became the Booker's 25th Anniversary edition.
In addition to the Booker's Rye, Beam is bottling the third in what could be thought of as the "Booker Noe Trilogy" along with the Rye and the 25th Anniversary edition. In 2001, Booker laid down special barrels of the Knob Creek mashbill that were allowed to mature for an extra five years, and that will be available starting this month as Knob Creek 2001, with 12,000 bottles available in three different batches at a recommended retail price of $129.99.
Tasting notes for both whiskies will be available at a later date, and we'll have an interview with Fred Noe discussing both whiskies on this week's WhiskyCast.
Editor's note: This story was updated to include additional information on Booker's Rye, along with the Knob Creek 2001.
Links: Booker's | Knob Creek