By Mark Gillespie
October 13, 2020 – Let's face it…mention Pappy Van Winkle to a whiskey lover and you'll probably get one of three responses:
"My God, that's the best whiskey ever made!"
"It's good, but there's no way in hell I'd pay THAT much for any whiskey!"
"Do you know where I can get my hands on a bottle?"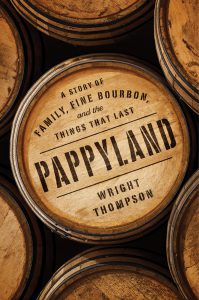 Of course, that last one is the one you're most likely to hear, especially around this time of the year. Buffalo Trace, which handles distilling, bottling, and distribution as a partner with the Van Winkle family, last week announced the 2020 releases of the Pappy Van Winkle 15, 20, and 23-year-old Family Reserve Bourbons, along with the Old Rip Van Winkle 10 and 12-year-old Bourbons and 13-year-old Rye. As usual, this year's announcement came with the recommended retail prices for the six whiskies ranging from $69.99 for the 10-year-old to $299.99 for the 23-year-old Family Reserve, along with the annual admonition to consumers to avoid the "secondary market."
However, this year's announcement came with something unusual – a request that consumers contact either the Better Business Bureau or their state Attorney General's office if they find retailers marking up the Van Winkle whiskies above the list prices. Neither the Van Winkle family, Buffalo Trace, nor its regional distributors have the ability to punish retailers themselves for price gouging, and in some states, it's even illegal for them to do so.
The story of Julian P. "Pappy" Van Winkle has been told many times over the years. As a young man, he bought out the Weller family's whiskey business in Kentucky, then merged it with the Stitzel family's business to form Stitzel-Weller. On Kentucky Derby day in 1935, he presided over the opening of the Stitzel-Weller Distillery just outside of Louisville's city limits in Shively and turned the distillery's flagship Old Fitzgerald wheated Bourbon into a legend.
His son, Julian P. Van Winkle Jr., took over when Pappy died in 1965, but was forced to sell the distillery in 1972. While he started sourcing whiskies to bottle under the Old Rip Van Winkle brand, it wasn't until after his death in 1981 when Julian Van Winkle III – we'll just call him Julian from here on – took the reins. Much as a young colt needs some time to find its legs, it took a few years and one helluva lot of hard work for the Van Winkle family's brand to catch on.
"Julian was looking far into the future, to see how this brand and whiskey would be passed from one generation to the next. The Van Winkles have done most things very well, except for that: the last time they seriously fucked up the baton pass."
That line on Page 7 should be a clue that Wright Thompson's "Pappyland" is not your typical whiskey book.
"Pappyland" begins on Kentucky Oaks Day 2017, 82 years after Pappy opened the Stitzel-Weller Distillery. Thompson, a senior writer for ESPN, was at Churchill Downs watching Julian mingle with friends, family, and more than a few admirers with a flask of Weller 12 in his pocket. That night, Thompson went with Julian as he returned to Stitzel-Weller for one of the few times since 1972 for a Derby Eve dinner party celebrating Diageo's Blade and Bow Bourbon. The memories, along with the sense of what might have been, still live deep within Julian's soul.
Julian, his wife Sissy, and their four children are revered as rock stars within the whiskey world today, especially Preston, poised to follow in his father's footsteps while his sisters develop the "Pappy & Co." lifestyle brand and their own successful careers. The Pappy Van Winkle Bourbon myth doesn't tell you how Julian dodged raccoons and other critters in a beat-to-hell bottling plant in Lawrenceburg for years, calling on Jimmy Russell down the road at Wild Turkey to ask for help with his antiquated – a nice way of saying rusty and worn-out – bottling line. The myth doesn't tell you how Sissy took the kids to the pool at the Louisville Country Club on hot summer days, but snuck them out to the car for peanut butter and jelly sandwiches at lunchtime to save money while Julian was trying to rebuild the family business and being turned down right and left by the bankers of Louisville.
The Van Winkle name carries with an air of Bourbon aristocracy, but "Pappyland" shreds the myths behind that facade to reveal the true story, one that should be inspiring and, yes, familiar to many of us. While Julian's sister, Sally Van Winkle Campbell, painted a gentle image of their father in her book "But Always Fine Bourbon," Wright Thompson tells the story of Julian Jr.'s years as a tank commander in World War II and a man capable of being both gentle and brusque. He also shares his own story – that of being the son of an alcoholic father who passed up a secure living in his father's Mississippi law firm to become a journalist (and a damn fine one at that). Thompson lays bare his own soul alongside Julian's to share some of the parallels, watching Julian and Sissy with their adult children while he and his wife Sonia fought one last battle to have a daughter of their own. (Spoiler alert: Wallace's birth plays a role in this book, along with some other heart-wrenching details I'll leave to you to find out for yourself.)
In the spirit of this book, I'm going to be honest as well. Most sons feel as though they have to compete with the legacies of their fathers, either to live up to their accomplishments or overcome their failures. As adults, many of us often wonder whether we ever truly earned the old man's respect. I used to wonder about that after my father died in March of 2012, until I realized that it would be far better to focus on making sure I earned the respect of my daughters.
This is as much a book about families as it is about Bourbon, but there's enough in here to keep the hard-core whiskey lover happy. You'll learn how Buffalo Trace eased Julian's level of stress when it bought a stake in the business in 2002, ensuring a long-term supply of whiskey and allowing him to escape the old plant in Lawrenceburg. It only eased that stress, though…because Julian spent the next 15 years obsessing over whether the whiskey Buffalo Trace was distilling for him could live up to the reputation of his dwindling stocks of Stitzel-Weller whiskey. Thompson tells the story of Julian and Preston finally tasting the samples of those first barrels, but to learn what happened in the Buffalo Trace tasting room, you'll need to read the book.
I guarantee you it'll be easier to find a copy of "Pappyland" than it is to find a bottle of Pappy…and unless you're completely heartless and soulless, it'll be just like tasting Pappy for the first time – you'll never be quite the same again.
Note: Wright Thompson and Julian Van Winkle will be taking part in an online book discussion and charity event November 16. Tickets include a signed copy of "Pappyland," with part of the proceeds going to Chef Edward Lee's Lee Initiative and its Restaurant Workers Relief Program. The ticket price also includes a raffle ticket for a bottle of Pappy Van Winkle.