September 9, 2016 – Utah's High West Distillery is on the auction block, according to Bloomberg News, which cites sources familiar with the company's plans. According to the report, High West founder David Perkins and his partners have asked UBS to handle the sale of the seven-year-old company, with the potential sale price as high as $100 million. No reason was given for the decision to put the company up for sale.
In an email to WhiskyCast's Mark Gillespie Saturday evening, Perkins noted that High West has been the subject of rumors since its inception. He declined to comment on speculation, while not addressing the question of whether UBS has been retained to seek a buyer.
"What I can tell you is that the management team and employees are vested and committed to our business and our long term vision: become one of the top whiskey makers in the world. We will continue to grow High West by focusing on what we do best: make and sell quality whiskey."
The biochemist and his wife Jane founded High West in 2009 with their original distillery and restaurant in downtown Park City, Utah. High West was Utah's first licensed distillery since Prohibition ended, and while it has been distilling its own spirit for several years, most of the company's bottlings are blends of whiskies sourced from outside Utah. However, High West has bottled Valley Tan, a whiskey based on the wheat-based spirit produced by Mormons in Utah during the post-Civil War period and completely distilled by High West.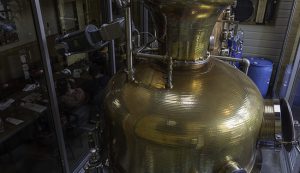 Perkins began distilling whiskey in early 2015 at the company's second distillery located at a ranch resort along Interstate 80 in nearby Wanship, with plans to move most of High West's production there over time. High West also operates a maturation warehouse and bottling facility in Salt Lake City, along with a bar and restaurant at Salt Lake City International Airport.
The Bloomberg report cites Pernod Ricard as one of the bidders for High West, but company representatives declined to comment on "deal speculation." Pernod Ricard is the largest spirits company without an American whiskey, having sold Wild Turkey to Gruppo Campari in 2009 for $575 million just as the explosion of consumer demand for Bourbon was beginning.
This story will be updated with additional information as necessary.
Editor's note: This story was updated with comments from High West founder David Perkins. 
Links: High West | Pernod Ricard