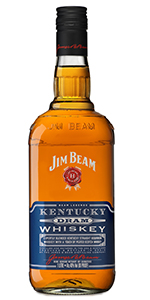 June 10, 2015 – Get ready for the purists to scream, rend their garments, and perhaps even break out the torches and pitchforks. While the lines between Scotch and Bourbon have blurred a bit because of the Scotch Whisky industry's heavy reliance on ex-Bourbon casks, blending the two whiskies together for a commercial bottling has been a line few are willing to approach, let alone cross…until now.
Beam Suntory is releasing Jim Beam Kentucky Dram, which takes traditionally-produced Jim Beam Bourbon and blends in what the company describes as "a touch of peaty Highland Scotch" in a news release. The company's Ardmore Distillery in Aberdeenshire has traditionally produced peated malts primarily for use in blending, but also releases its own single malts as well. The two whiskies were blended together and bottled at Beam's facilities in Segovia, Spain, where it produces DYC Whisky.
The result is a blend that has been bottled at 40% ABV and will be available exclusively in travel retail shops starting in July. Pricing has not been announced.
Links: Jim Beam