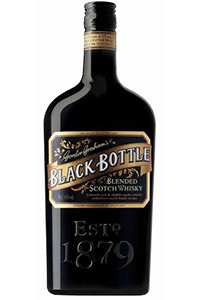 September 27, 2013 – In the first major move for Black Bottle since South Africa's Distell acquired Burn Stewart Distillers this spring, the Islay-based Blended Scotch has been re-formulated with a new recipe. While not giving specifics of the changes in the blend, Burn Stewart indicates the new recipe created by Master Blender Ian MacMillan adds "another layer of depth" to Black Bottle.
In addition, the brand returns to its traditional black glass bottle after being packaged in green bottles for nearly 100 years. The original Black Bottle came packaged in black glass, but wartime glass shortages during World War I forced the Graham family to switch to green glass. The green glass bottles became part of the brand's image, but will be phased out as inventories are depleted.
Black Bottle will continue to be bottled at 40% ABV, and no immediate changes are expected in its availability in the UK, the US, and other export markets where the brand is currently available.
Links: Black Bottle