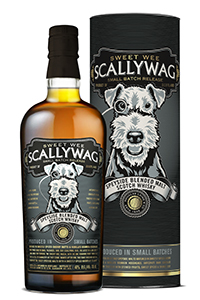 October 28, 2013 – Douglas Laing & Co. has released the second new whisky brand since the Laing Brothers went their separate ways earlier this year. Fred Laing, his daughter Cara, and their team have created a sidekick for the company's Big Peat blended malt — a Speyside blended malt known as Scallywag.
The whisky is blended exclusively from the company's stocks of Speyside malt whiskies, including casks from Macallan, Glenrothes, and Mortlach. The name, and the Fox Terrier that adorns the label, have an even closer family tie. In a news release, Fred Laing cited his family's tradition of having Fox Terriers around the house:
"From a chance sketch by a designer of our sweet, wee, rascal of a Fox Terrier, our Scallywag Malt Whisky was born! "Sweet" was the key which focused us on Speyside. Its cask selection is self-evidently heavy on the sherry background, balanced by first-fill bourbon casks – so the resulting 'Vatted' Malt comes with an excellent pedigree".
Scallywag is bottled at 46% ABV, with no chill filtering, and will be available at whisky specialist retailers starting in November.
Links: Douglas Laing & Co.