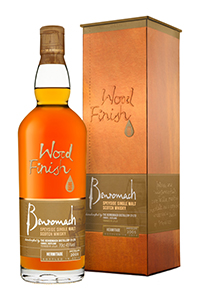 November 24, 2014 – Gordon & MacPhail-owned Benromach is releasing two new single malts finished in French Oak wine casks.
The Hermitage Wood Finish (shown at right) uses Benromach single malt matured originally in first-fill Bourbon casks, then finished for 27 months in Hermitage wine casks from the Rhône region of France. The Château Cissac Wood Finish is similar in that the whisky began its maturation in first-fill Bourbon casks, but spent the final 20 months in Haut-Médoc Bordeaux wine casks.
In a news release, Gordon & MacPhail Chief Operating Officer Ewen Mackintosh said the two finishes add a unique character to the Benromach malt. "We are proud of our role as custodians of the old crafts of distillation and maturation and as those who are familiar with Benromach know, we like to experiment a little," he said. "These two wood finishes – Hermitage and Château Cissac – have been finished in casks from two distinguished French wine regions and have a lot of character, which we expect will appeal to both existing and new customers."
4,200 bottles of each whisky will be available through whisky specialist retailers, with a recommended retail price of £39.75 GBP ($62 USD).
Links: Benromach