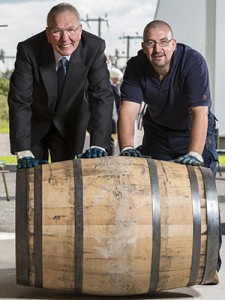 August 12, 2014 – One of Scotland's smallest distilleries has nearly doubled its storage capacity with the addition of two new maturation warehouses. Benromach has completed work on the two new warehouses, announced last year as part of an expansion that also saw the distillery's staff grow by 50% — from two on-site workers to three.
The Gordon & MacPhail-owned distillery's newest employee, Brian Williams, helped roll the first cask into the new warehouses with the help of a Benromach veteran. Tom Anderson was a stillman at Benromach when it was originally mothballed by Diageo predecessor United Distillers in 1983, but still lives in one of the distillery's on-site cottages. In a Gordon & MacPhail news release, managing director Michael Urquhart said "we are absolutely delighted that Tom was able to open our new warehouses at Benromach. These are exciting times for our classic, hand-crafted single malt whisky but whisky is a long-term business and the foundations for our success were laid when Tom worked here and in the years before that."
The two warehouses take Benromach's on-site storage capacity from 8,000 casks to 15,000, and were built by local contractors with support from Highlands & Islands Enterprise.
Links: Benromach | Gordon & MacPhail