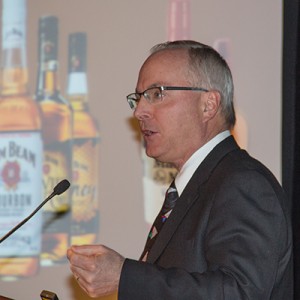 April 4, 2013 –  Beam Inc. North American President Bill Newlands described the company's decision to reverse course on the controversial Maker's Mark ABV switch in February as a "testament to how our company operates." During a question period following his keynote address at the World Whiskies Conference in New York City, WhiskyCast's Mark Gillespie asked Newlands whether there had been any noticeable impact on Maker's Mark sales in the weeks following the ABV switch and reversal, and who within the company was responsible for making those decisions. While Newlands did not address the second question, he said it will not "affect Maker's Mark one iota."
"Our initial understanding from the marketplace is that Maker's is as popular as ever, and the response we had for listening to the consumer was even greater than the response we got for making the change, so we're as bullish on Maker's Mark as we've ever been. (Pause) I wouldn't do it again, however."
On February 17, Maker's Mark Chief Operating Officer Rob Samuels and Chairman Emeritus Bill Samuels Jr. sent an email to members of the Maker's Mark Ambassadors affinity group announcing that their decision a week earlier to cut the bottling strength of the bourbon from 45% ABV to 42% would be reversed because of consumer protests.  That decision was based on a need to stretch the available supply of aged Bourbon produced at Maker's Mark to meet growing and unanticipated global demand for Bourbon. The brand's unique recipe is not produced anywhere else, putting Maker's Mark in the same position as a single malt distillery unable to acquire additional bulk supplies of whiskey to augment the distillery's production.
Newlands told the audience "Our belief was that we needed to try to find a way to offer the consumer more supply. What the consumer said loud and clear to us is 'we disagree with you', and I think that's a real testament to how our company operates, because it took us less than a week to say the consumer has spoken and we are going to listen."
Beam executives accompanying Newlands at the conference confirmed that Maker's Mark sales had not seen any significant impact in the weeks following the controversy, but did not provide specific data.
Links: Beam | Maker's Mark | World Whiskies Conference