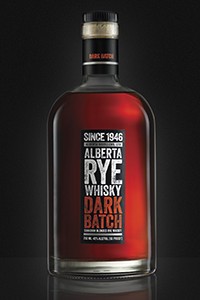 January 20, 2015 – Beam Suntory's Alberta Distillers distillery in Calgary has produced the award-winning Alberta Premium range of whiskies for many years, but those whiskies have only been available to Canadians until now. This spring, the company plans to start selling Alberta Premium Dark Horse in the US, but trademark restrictions will force the distilling giant to rename the export version.
"In the United States, it's going to be called Alberta Rye Dark Batch," said Beam Suntory's Dan Tullio shortly after announcing the launch during a tasting at the Victoria Whisky Festival. "There's a small microbrewery in northern Michigan that (makes a beer) called Dark Horse Lager, so after some thinking about it, we decided to call it Alberta Rye Dark Batch. It's the same liquid, just a different name because of trademark issues." The whisky is a blend of 91% rye whiskey from Alberta Distillers, 8% Old Grand-Dad Bourbon from Beam Suntory's distilleries in Kentucky, and 1% Oloroso Sherry, which Tullio said takes the edge off of some of the rye's harsher notes.
No details have been announced on the price for the new whisky, or which markets will receive it at first. Tullio is not ruling out expanded distribution of other Alberta Premium whiskies to the US, and said that the distillery is experimenting with different types of mashbills and casks for potential future releases.
Editor's note: For a tour of the Alberta Distillers distillery in Calgary, listen to Episode 451 of WhiskyCast from November 2013. 
Links: Alberta Premium