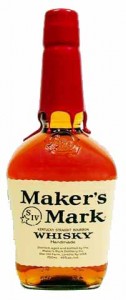 May 2, 2013 – Beam Inc. reported first quarter earnings of $0.64/ share today, well above the estimates from Wall Street analysts. The 21% gain in earnings over the same period in 2012 was based on strong sales in North America, with the controversy over the Maker's Mark ABV change in February getting some of the credit.
Maker's Mark sales jumped 44% during the quarter from 2012, and CEO Matt Shattock told analysts on a conference call following the report that consumer stockpiling of the original 45% Maker's Mark  resulted in what he called unsustainable long-term gains. Maker's Mark announced February 9 that it would lower the bottling strength of its Bourbon from 45% ABV to 42% ABV in order to increase supplies to meet unprecedented demand. However, the decision was reversed a week later following an outcry from the brand's customers.  Shattuck told analysts and reporters on the call that the Maker's Mark inventory will be able to sustain a "solid rate of growth" through pricing and market allocation.
Company-wide, sales rose 3% during the quarter, with 7% growth in North America, 1% in the EMEA (Europe, the Middle East, and Africa) region, and a 7% decline in the Asia-Pacific and South American region. The EMEA results reflect steady maintenance of the region's 12% gain during the same period last year. Beam had expected losses in Asia as it deals with the fallout of bribery allegations in India, where its Teacher's Scotch has traditionally dominated the market. Teacher's sales fell 20% during the quarter from a year ago, largely on the issues in India.
Teacher's and Maker's Mark are considered two of Beam's "Power Brands" within the company, and the segment showed a 2% drop in overall sales during the quarter. Among the other whisky brands in that group, Jim Beam sales fell 2% and Canadian Club sales gained 8%.  Beam's "Rising Stars" group showed a 20% gain in sales during the quarter, with Laphroaig up 27%, Basil Hayden's up 16%, and Knob Creek up 3%. Kilbeggan sales fell 30% from the previous year, which was the first quarterly report after Beam's acquisition of Ireland's Cooley Whiskey.  Both groups also include other spirits brands, and the "Power Brands" group was also hurt by declines for Courvoisier Brandy and Sauza Tequila. The "Rising Stars" group also benefitted from a 140% gain in sales of Skinnygirl cocktails.

Links: Beam Inc.