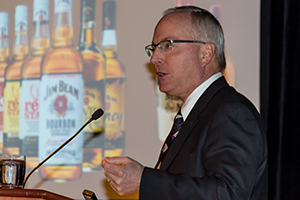 April 18, 2014 – Three senior Beam, Inc. executives have announced their plans to step down after Suntory's $16 billion acquisition of Beam is completed. In a regulatory filing today, Beam said North American President Bill Newlands (shown) will become a part-time strategic consultant for the company when his resignation takes effect on May 31. Newlands has been in charge of Beam's entire North American operations since 2010, when he was promoted from his previous position heading US operations. He joined Beam in 2005 following the breakup of Allied Domecq, where he served as president of the company's North American wine unit.
In addition, Chief Financial Officer Robert Probst and Corporate Controller Leo Mierzwcki will be resigning for personal reasons. The filing says both men chose to leave because of the "impact on their roles due to the impending acquisition." Probst joined Beam in 2008 as senior vice president and CFO, according to his official biography on Beam's web site. He previously headed up Baxter International's mergers and acquisitions team, and spent 8 years at Diageo in key financial roles. His resignation will be effective on May 31.
Mierzwcki has been Beam's chief accounting officer since 2009, and was part of the team that helped guide Beam's transition to a standalone spirits company in the breakup of Fortune Brands. His resignation will be effective on July 10. 
Links: Beam