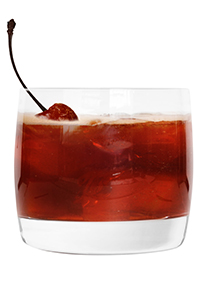 February 11, 2014 – With President's Day coming up on the 17th — purists will remember when we used to celebrate Lincoln's birthday on February 12 and Washington's birthday on the 22nd — the PR folks for Beam's Basil Hayden's Bourbon shared this recipe from Chicago mixologist Charles Joly of The Aviary.
2 parts Basil Hayden's Bourbon
3⁄4 part Heering Cherry Liqueur
1 dash Fee Brothers Old Fashioned Aromatic Bitters
2 parts Milk Stout Beer
Fresh nutmeg
Combine the Bourbon, cherry liqueur and bitters in a mixing glass, add ice and shake. Roll in the milk stout beer, then strain into an Old Fashioned glass with ice. Garnish with freshly grated nutmeg and cherry on top.