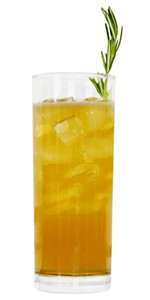 March 13, 2016 – San Francisco-based bartender Zachary Brian Taylor created this St. Patrick's Day-themed recipe using Basil Hayden's Bourbon.
1 1/2 parts Basil Hayden's Bourbon
3/4 parts lemon juice
1/2 part brown sugar syrup (1 part brown sugar mixed with 1 part water)
1 sprig of rosemary
Ginger beer
Combine the Bourbon, lemon juice, and brown sugar syrup into a cocktail shaker. Remove the needles from the bottom 3/4 of the rosemary sprig and add to the shaker. Save the top of the sprig for use as a garnish. Add ice to shaker and shake, then double-strain into a Collins glass filled with ice and top with ginger beer. Garnish with the remaining rosemary sprig.