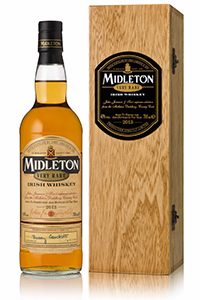 August 19, 2013 – The final edition of Midleton Very Rare Irish Whiskey to carry Master Distiller Barry Crockett's signature is being released this week. The 2013 edition contains pot still and grain whiskies ranging from 15 to 24 years old (though the bottle traditionally carries no age statement) selected by Master Blender Billy Leighton, and was matured exclusively in ex-Bourbon casks.
Barry Crockett developed the original edition of Midleton Very Rare in 1984, and his signature has appeared on each annual release since then. He retired earlier this year after 47 years at Midleton, following his father as Master Distiller. Brian Nation was named Master Distiller upon Crockett's retirement, and the 2014 edition of Midleton Very Rare will carry his signature. In a news release, Irish Distillers Global Innovation & Category Development Director praised Crockett's work with the final edition.
"Midleton Very Rare is rightfully regarded as one of the ultimate expressions of the Irish whiskey category and each vintage is cherished by collectors and whiskey connoisseurs. It is a unique whiskey that demonstrates both the outstanding quality of Irish whiskey at the high end of the category and the immense skill of our Master Distiller, so with Midleton Very Rare and the other Prestige whiskeys in our portfolio we're aiming to show the world that the finest Irish Whiskeys offer exceptional quality that rival the best whiskies from across the world."
The 2013 edition of Midleton Very Rare will be available in limited quantities worldwide at whisky specialist retailers.