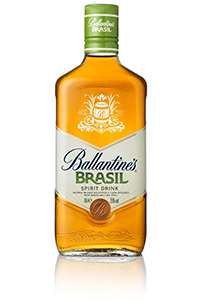 December 3, 2013 – While most entries in the flavored whisky category so far have focused on honey, spices, or maple accents, Ballantine's is taking a different tack with a Brazilian-influenced lime-flavored "spirit drink". Ballantine's Brasil is the first entry into this category for Chivas Brothers, and uses Scotch whisky infused with Brazilian lime peel. The drink will be launched starting this month in the Czech Republic, The Netherlands, and other key markets, with a global rollout planned for February.
In a news release, Ballantine's Global Brand Director Peter Moore said the new drink is intended to attract new Scotch drinkers while still appealing to the traditional Ballantine's consumer:
"There is a huge opportunity for spirit drinks that are made with whisky, as it's an exceptionally dynamic new category that is already demonstrating a strong rate of growth. Ballantine's Brasil is a venture into new territory for us, but we're excited to have a product that can take advantage of this opportunity and one that can truly inspire those who have not yet found their perfect way to enjoy a Scotch whisky drink. We hope that Ballantine's Brasil will excite a new generation of consumers with the combination of Scottish authenticity and Brazilian passion!"
This is the second Scotch whisky-based "spirit drink" to enter the market, following the introduction of Dewar's Highlander Honey earlier this year. While the Dewar's labeling caused some concerns with the Scotch Whisky Association because of its prominent tie-in with a specific brand of Dewar's and minimal use of the "Spirit Drink" designation, the Ballantine's entry clearly defines itself as a "Spirit Drink" on the front label. UK and European laws do not allow the addition of flavorings to "whisky", which is the reason for labeling these expressions as "Spirit Drinks".
Links: Ballantine's Brasil