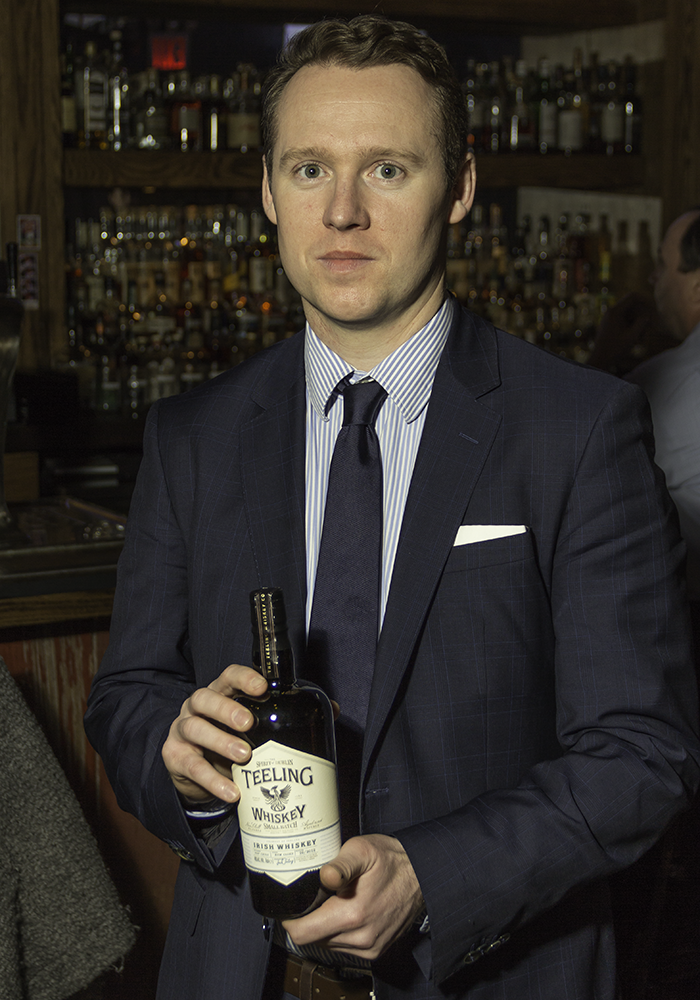 June 30, 2017  – With Irish Whiskey sales continuing to grow in the United States and worldwide, Bacardi Limited has decided to enter the market. The privately-held spirits producer has acquired a minority share in Ireland's Teeling Whiskey Company from founders Jack and Stephen Teeling for an undisclosed amount, according to the Irish Times. The Teelings will continue to run the company independently from Bacardi, similar to an investment Bacardi has in Compass Box Whisky Company.
Jack Teeling founded the company in 2012 after leaving Cooley Whiskey, which had been founded by their father John and was sold to Beam at the end of 2011. Stephen Teeling joined the company after leaving Beam in 2013. As part of the deal, Teeling acquired some of the stocks of Cooley's maturing whiskey and has been bottling those casks while the spirit from their own distillery in Dublin's Liberties neighborhood matures. The distillery opened in June of 2015, and is set to undergo a €500,000 ($570,000o USD) expansion over the next year coinciding with the first release of Teeling's own whiskey in mid-2018.
As part of the deal, Teeling will switch most of its distribution in the United States to Bacardi's in-house network with Southern Glazer's Wine & Spirits beginning September 1, 2017. The U.S. is the largest single market for Irish Whiskey exports, with a 19.8 percent increase in sales during 2016 to approximately $795 million, according to data released by the Distilled Spirits Council of the United States. The switch will also mean the end of Teeling's current partnership with Infinium Spirits, which has been Teeling's U.S. importer since the brand entered the market three years ago.
"The US market is by far the most important market for Irish whiskey and it is beginning to go through significant premiumisation. Given the size of the opportunity, when a chance came up to partner with Bacardi through their new national distribution partnership and unique route-to-market model with Southern Glazer's, it was too good not to take," Jack Teeling said in a statement provided by Teeling Whiskey. "Joining forces with a partner of this calibre in the largest market for Irish whiskey is an important strategic development for us and is testament to what Teeling Whiskey has achieved over the past five years." WhiskyCast has requested interviews with Jack and Stephen Teeling, but has been told they will not be available.
"We at Bacardi are such big believers in Jack and Stephen Teeling and their Teeling Whiskey collection of fine Irish whiskies that we have become a minority stake investor," Bacardi said in a statement provided to WhiskyCast. "Family-owned Bacardi has held a long-term belief in supporting innovative founders in emerging and growing businesses that share many of the same family-based values and cultural tenets. Bacardi also has a well-known track record of maintaining the unique heritage of a brands origin."
In addition to the shares it owns in Teeling and Compass Box, Bacardi owns Scotland's John Dewar & Sons with its Dewar's blend and single malts marketed under the "Last Great Malts of Scotland" range. The company also owns the Angel's Envy Bourbon brand and recently opened the new Angel's Envy distillery in Louisville, Kentucky earlier this year. Of course, Bacardi is most well-known for its namesake rums, and also owns the Bombay Sapphire gin and Grey Goose vodka brands.
This story will be updated as necessary.
Editor's note: This story was updated with additional information.
Links: Teeling Whiskey | Bacardi Limited