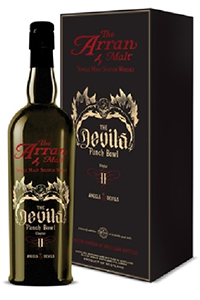 July 4, 2013 – Isle of Arran Distillers has released the second in a trilogy — or should that be a trinity — of devilish single malts.
Angels & Devils follows the 2012 release of The Devil's Punch Bowl malt, which was named after one of the geographic features of the island. The new release is a vatting of 27 different casks (primarily ex-Sherry hogsheads)  from the distillery, with a goal of finding a "true contrast of light and shade", according to master distiller James MacTaggart. The vatting also includes the oldest Arran peated malts available, which were distilled in 2004.
Fittingly, 6,660 bottles will be available worldwide at a cask-strength 53.1% ABV.
Links: Arran