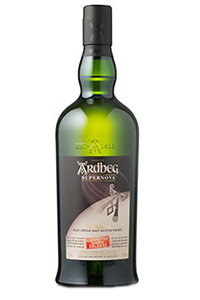 August 28, 2014 – After three years in orbit as part of an experiment on board the International Space Station, a vial of Ardbeg whisky is set to return to Earth next month. The sample will be carried on a Soyuz capsule that will land in Kazakhstan, and will eventually be returned to NASA's Johnson Space Center in Houston, Texas for analysis.
Ardbeg provided the sample to NASA contractor NanoRocks LLC for an experiment billed as testing the differences between maturing whisky on earth and in zero gravity, but which actually had the scientific goal of testing the difference in chemical reactions that take place in whisky maturation and other processes. The sample will be compared with a reference sample taken from the same Ardbeg cask that has been stored in Houston for the past three years.
During a June interview in New York, Glenmorangie director of whisky creation Dr. Bill Lumsden hinted that something special was in the works to mark the sample's return. Ardbeg is reviving Supernova, the heavily-pleated expression that was produced in 2009 and 2010. The 2014 version, like the previous versions, carries no age statement. However, it has been bottled at 55% ABV, lower than the earlier releases bottled at 59.9% ABV in 2009 and 60.1% ABV in 2010. It will go on sale September 12, the day the Soyuz capsule is scheduled to return to Earth, at Ardbeg Embassies around the world with a recommended retail price of £124.99 ($207.30 USD).
Editor's note: This story was updated with additional information on the 2009 and 2010 Ardbeg Supernova bottlings. 
Links: Ardbeg