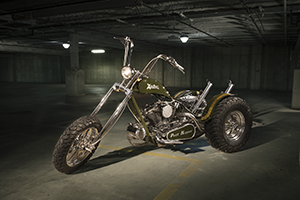 December 14, 2013 – Ardbeg's fleet of unusual vehicles has included two choppers, a tractor, and even a rocket. Now, the Islay single malt is returning to its motorcycle-based roots with the new "Peat Hopper" three-wheeler. The Peat Hopper made its debut on CMT's "Orange County Choppers" reality show December 7, with Ardbeg U.S. brand manager Gregor Mina commissioning the famed Southern California motorcycle shop to create another unique vehicle.  Orange County Choppers created the original Ardbeg Choppers that toured North America, with one given away to an Ardbeg fan in a 2011 drawing.
"What we wanted to do was create something with a lot of 'wow', big and fast and loud," Mina told WhiskyCast in an interview. "We wanted to rekindle our past relationship with Orange County Choppers and really take that to the maximum level that we could. It's not a tractor, it's not an all-wheel-drive vehicle, it's not a chopper…it's something like the love child of all three."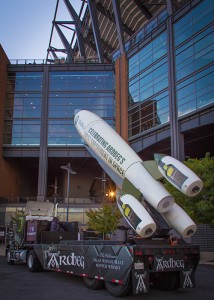 The Peat Hopper will go on tour starting in March with plans to visit bars and liquor stores in 26 states through December. It will replace the Ardbeg Rocket, which has been touring for the last two years. While Mina won't say what will be done with the Rocket, he hinted that it might be brought out of retirement when the Ardbeg spirit that has been orbiting on board the International Space Station is brought back to Earth. The spirit was sent into space in the spring of 2012 as part of an experiment with the NanoRacks research firm to study the impact of micro gravity on the interaction between molecules in the whisky known as "terpenes" and charred oak. The spirit is contained in glass vials on the Space Station, and chips of charred oak were put into the vials with the spirit. The experiment was originally scheduled to last at least two years, and no firm date has been announced for the vials to be returned to Earth for examination.
Editor's note: The "Orange County Choppers" episode featuring the Peat Hopper is available to view online. However, broadcast rights may restrict online viewing outside of the United States. 
Links: Ardbeg | Orange County Choppers