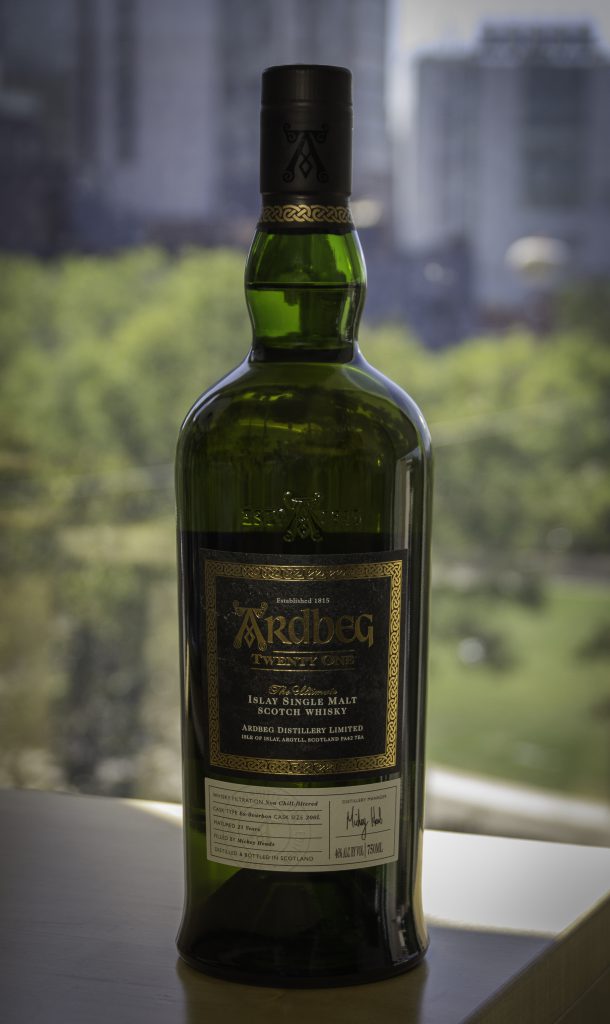 Updated September 14, 2016 – After years of speculation over when Ardbeg might bring out a new single malt with an age statement, the wait is over. The Islay distillery has announced that a limited-edition 21-year-old Ardbeg will be released on October 1. Previous reports indicated that the single malt would be available exclusively to members of the Ardbeg Committee affinity group, however, that will not be the case. According to Bill Lumsden, chief whisky maker for Ardbeg owner The Glenmorangie Company, the limited-edition whisky will be available in the US, the UK, Japan, Taiwan, Germany, Scandinavia, and other markets, with a total of 689 9-liter cases available.
Until now, the Ardbeg 10 has been the only expression released with an age statement since the distillery reopened on a full-time basis in 1997 after it was purchased by The Glenmorangie Company. According to Lumsden, the whisky for this expression was distilled in 1993 and 1994 when Ardbeg was owned by Allied Domecq and only operated for a few weeks each year to produce peated malt whisky primarily for blending use. Many of Allied Domecq's Scotch Whisky distilleries were later merged into Pernod Ricard's Chivas Brothers unit after the breakup of Allied Domecq, and Lumsden credits Chivas Brothers with making this bottling possible.
"They very kindly agreed to sell us that stock back…now, when you buy stock back from someone which has been destined for blends, you're never certain as to the quality of the wood that it's been filled into," Lumsden said in an interview at Möet Hennessy USA's New York offices. "Prior to the purchase, I was sent samples from six or so casks out of the 270 or so we bought, so obviously when the deal went through and I had the stock moved to Ardbeg Distillery on Islay (it had been matured in Chivas Brothers warehouses on the mainland), I sampled every single cask, and I have to say I was very pleasantly surprised at how good the stock was." Current Ardbeg manager Mickey Heads was working at the distillery as a stillman during the period when this whisky was originally distilled, and was given the honor of having his signature on the label for the Ardbeg 21.
The whisky was matured in ex-Bourbon casks and bottled at 46% ABV with no chill-filtering. It will carry a recommended retail price in the US of $499 (750ml bottles). Pricing will vary in other markets.
Lumsden noted that while the Ardbeg 21 is a limited release, he only used about half of the whisky available from those 270 casks, meaning another possible release will be coming in the future. He also hinted that 2017 will bring a permanent addition to the Ardbeg range to join the 10-year-old, Corryvreckan, and Uigeadail, though declined to provide more specifics.
Tasting notes for the Ardbeg 21 will be available soon at WhiskyCast.com.
Editor's note: This story was updated with additional information and comments from Bill Lumsden. 
Links: Ardbeg