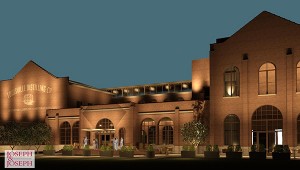 July 9 , 2013 – Lincoln Henderson will finally have another distillery of his own to work with. The longtime Brown-Forman master distiller and original master distiller at Woodford Reserve helped break ground today for the new Angel's Envy Distillery in downtown Louisville. Henderson created the Angel's Envy brand with his family and a team of investors using whisky sourced from other distilleries. In a news release, Henderson expressed relief after spending the last two years looking for a site to build the distillery.
"I feel blessed to do what I truly love to do. It is a dream come true to have my own distillery on Main Street in downtown Louisville."
The site is on the eastern end of Main Street near Louisville Slugger Field, and was formerly the site of Vermont American and Baer Fabrics. Angel's Share Brands, LLC, the Chicago-based parent company of Angel's Envy, purchased the site from the Commonwealth of Kentucky, and the project will also receive economic development incentives from the Commonwealth. The $12 million dollar renovation project will include not only the distillery, but a visitors center that will become part of the Kentucky Bourbon Trail.
Angel's Share Brands, LLC also announced a significant investment in the company from Blue Equity, LLC, a Louisville-based private equity firm. The amount of the investment was not disclosed.
Links: Angel's Envy