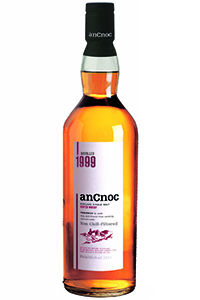 January 27, 2014 – anCnoc is releasing the latest in its vintage series of single malt Scotch whiskies from the Knockdhu Distillery near Huntly in Aberdeenshire. The 1999 vintage was bottled at the end of 2013 after maturation in a combination of ex-Bourbon casks and Spanish oak ex-Sherry casks, and continues the distillery's tradition of releasing vintages from consecutive years. In a news release, anCnoc brand manager Gillian Gibson hinted that the 1999 anCnoc will be just the first of several new releases from the distillery this year.
"Our 1999 Vintage marks the first in a series of fresh and exciting developments for anCnoc in 2014 which are sure to intrigue and delight fans of our range. This very special expression, with its distinctive characteristics, will undoubtedly be a welcome addition to anCnoc collections."
9,000 bottles (750 cases) will be available through whisky specialist retailers in the UK, Germany, Taiwan, and Russia at a recommended retail price of £49.99 ($83.00 USD).
Links: anCnoc