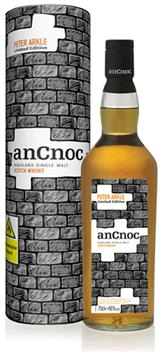 May 21, 2013 – Scottish illustrator Peter Arkle's third single malt in his collaboration with anCnoc features another aspect of the distillery's heritage.  anCnoc's Peter Arkle Limited Edition #3 "Bricks" features his drawing of a dunnage warehouse wall at Knockdhu Distillery in Aberdeenshire, where anCnoc is produced. The first two editions featured his illustrations of anCnoc's ingredients and casks, but in a news release, Arkle cited his experience in the warehouses as the inspiration for the third whisky.
"On one hand it's just a drawing of the bricks that make up the walls of the distillery and the warehouses with a yellow sign stuck on. But, on the other hand, those bricks are so old and so soaked with the essences of anCnoc – absorbed over the years – that they are not just any old bricks. They are bricks with real character and history. And the sign is there to remind people that anCnoc is not something you can take for granted. One must handle something remarkable with care."
#3 Bricks was matured in Spanish oak ex-Sherry butts and American oak ex-Bourbon barrels, and is bottled at 46% ABV with no chill-filtering and no caramel coloring. 1,000 cases will be available at retailers in the UK, US, Canada, Germany, Russia, Japan, and Taiwan, with a suggested retail price of £49.99 ($76 USD).
Arkle and anCnoc are also teaming up for a Twitter-based competition on June 17, in which contestants will be asked to tweet a photo of their "perfect anCnoc moment" that day (using the hashtag #youranCnoc). Ten winners will be chosen to have their moments hand-drawn by Arkle on the label for a unique bottle of anCnoc whisky, while one winner will receive a trip to meet Arkle at his studio in New York City.

Links: anCnoc