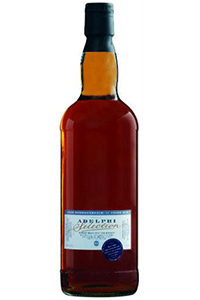 January 5, 2014 – Scotland's Adelphi Distillery Ltd. has reached a deal with Chicago-based Terlato Wines to import and market its single-cask bottlings in the US market. The two companies plan four quarterly releases each year, starting with an initial batch of four Adelphi Selection expressions: a 14-year-old Highland Park, a 21-year-old Bunnahabhain, a 23-year-old Glen Grant, and a 32-year-old BenRiach. Recommended retail prices will range from $170 to $475. No details were announced on which markets the Adelphi Selection whiskies will be available in initially.
Terlato imports and distributes wines and spirits from at least 13 countries around the world, including wines from golf legend Jack Nicklaus, Champagne from France's Bollinger, and the Terlato family's own California wines. In a news release, Adelphi's Alex Bruce described Terlato as the partner Adelphi had been searching for in the US market:
"We both have a 'no-compromises' philosophy when it comes to quality. Their success in luxury marketing is proven, and coupled with their excellent industry relationships, we are in a great position to bring Adelphi Scotch Whiskies to America's most discerning Scotch Whisky enthusiasts."
The deal does not yet include whisky from Adelphi's new Ardnamurchan Distillery on Scotland's Ardnamurchan peninsula. The distillery is expected to open later this year, but will not have any whisky ready to release for a minimum of three years, and likely much longer.
For more information on Adelphi's history, listen to Mark Gillespie's interview with Antonia Bruce of Adelphi in Episode 339 of WhiskyCast from October, 2011.
Links: Adelphi | Terlato Wines