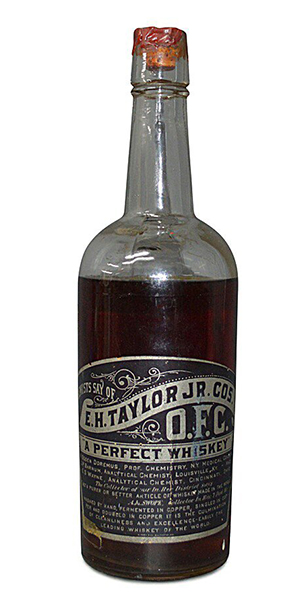 October 17, 2015 – Pre-Prohibition Bourbons come up fairly regularly at auctions, but it's rare that a whiskey estimated to be from around 1880 becomes available for collectors. A bottle of E.H. Taylor Jr's whiskey from the O.F.C. Distillery in Frankfort, Kentucky, will go on the auction block at Skinner in Boston Tuesday with a pre-auction estimate of $1,200-1,500. While the bottle does not bear an actual date, Skinner whisky specialist Joseph Hyman authenticated it with the "circa 1880" estimate.
"The bottle itself is a three-part mold glass, which is from around that period," Hyman said in an interview. "Most of the bottles that we come across from around that period with the three-mold format are usually 1870's and later…anything earlier, you're finding just a plain bottle." Hyman based his estimate on the printed label with a quote from A.M. Swope, who was collector of internal revenue for the 7th district of Kentucky between 1877 and 1884. It should be noted that Swope's quotation was printed on the label and not personally signed by Swope, who died in 1889.
Col. E.H. Taylor Jr. purchased the distillery now known as Buffalo Trace in 1869 and named it the O.F.C. Distillery (Old Fire Copper). According to Buffalo Trace's historical records, Taylor sold the distillery to George T. Stagg in 1878, but continued to manage the distillery for several years. He was the driving force behind Congressional Passage of the Bottled-in-Bond Act of 1897, and later founded the Old Taylor Distillery near Versailles.
In addition to the E.H. Taylor O.F.C. bottle, the auction also features a number of other rare Bourbons, including several bottles of A.H. Hirsch Reserve Bourbon distilled in 1974 at the Michter's Distillery in Schafferstown, Pennsylvania, and a 1918 bottling of Glenmore Whiskey distilled in 1913 at the Glenmore Distillery in Owensboro, Kentucky.
Links: Skinner