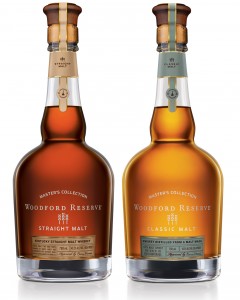 September 26, 2013 – Kentucky's Bourbons are legendary, but Woodford Reserve has been working on an experiment that may make some Kentucky whiskey purists blanch — a pair of single malt whiskeys for the 2013 Woodford Reserve Masters Collection edition.
"We're not going to claim to be the first," Woodford Reserve Master Distiller Chris Morris told WhiskyCast's Mark Gillespie in an interview at Brown-Forman's Louisville headquarters on September 20. "We started working on this project over nine years ago, so we're confident we were making malt whiskey before anyone else was." Technically, Alltech's 2010 release of Pearse Lyons Reserve single malt from the Lexington Brewing & Distilling Company holds the claim of being the first single malt whiskey produced in Kentucky since Prohibition. However, that whiskey was distilled starting in 2007, while the Woodford Reserve malts were distilled in 2004.
There are two single malts in the 2013 Masters Collection release. Woodford Reserve Straight Malt Whiskey was aged in new American White Oak barrels, while the Woodford Reserve Classic Malt was matured in used barrels. Both are bottled at 45.2% ABV, and will be sold in 700 and 750ml bottles depending on the market. Unlike the previous Masters Collection release of a two-bottle Rye set in 2011, this year's collection will be sold separately. "There was a pushback from retail about that presentation, so instead, we're going to answer the demand of the consumer…each will be available in a full-size 750 bottle, and it's up to the individual to purchase one or both," Morris told WhiskyCast.
However, the trend started in 2011 of exporting Masters Collection releases outside the U.S. will be expanded this year, with the single malts to be available in Canada, the United Kingdom, Belgium, France, Sweden, Spain, Germany, New Zealand,  and Australia, along with travel retail outlets. "There's a tremendous demand for the Masters Collection, which means as a result, there will be less available in the United States," Morris said. "We have huge demand in Australia, demand in France, demand in Europe, and we only have so much."
Both whiskies were distilled in the copper pot stills at Woodford Reserve Distillery in Versailles, Kentucky, and will be sold at a recommended retail price of $99.99 per bottle.
Links: Woodford Reserve