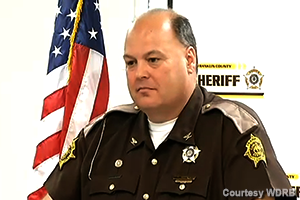 April 21, 2015 – From the beginning, Franklin County Sheriff Pat Melton considered the 2013 theft of 65 cases of Pappy Van Winkle's Family Reserve whiskey from a secured Buffalo Trace Distillery warehouse to be an inside job. Today, a Franklin County grand jury returned indictments against nine people in what's become known as "PappyGate", including two Buffalo Trace employees. The nine are accused of stealing and selling tens of thousands of dollars worth of stolen whiskey – potentially including the Pappy Van Winkle whiskey –  according to the indictments. Arraignments are expected as early as Friday, according to Sheriff Melton, assuming that all nine suspects can be served with warrants by then.
"Right now, I don't know that I can look at it and say this is what was stolen from 2013," Melton told WhiskyCast's Mark Gillespie in a telephone interview. "I think you can look at it and say we've got 25 bottles of Pappy van Winkle of different vintages, and I think it's safe to say this is an ongoing and continued pattern of behavior since – as we can track down – back to 2008…there's been a lot of Bourbon stolen." In all, at least 18 barrels of stolen Bourbon were accounted for, along with the stolen Pappy Van Winkle and other whiskies – for a total value of more than $100,000, and Melton called that "the tip of the iceberg."
"Five barrels alone is gigantic…I would have never guessed that we'd have gotten what we got, much less 18 barrels and all the bottles and the contents out of another barrel…it's just crazy."
Listen to Mark Gillespie's interview with Sheriff Pat Melton:

Gilbert "Toby" Curtsinger was arrested last month after deputies found five barrels of whiskey in his yard that were found to have been stolen from a Wild Turkey warehouse. Curtsinger has been free on bond since his arraignment in District Court, but the arrest set in motion a series of events leading to the indictments. Sheriff Melton told reporters today in Frankfort that several people called in with tips that they had purchased barrels of Bourbon that might have been stolen, and prosecutors declined to pursue charges against them for cooperating with the case. He suspects there are still bottles of stolen whiskey circulating in Kentucky, and is asking for anyone with information about the case to contact his investigators.
Curtsinger, described by the sheriff as a "senior employee" at Buffalo Trace with 27 years of experience, was named as the ringleader in the indictment, along with his wife Julie Curtsinger. The others indicted included Buffalo Trace employee Christopher Preston and Wild Turkey employee Mark S. Searcy, who was accused of helping steal barrels from his distillery's warehouses. Curtsinger's attorney, Whitney Lawson, told the Courier-Journal "We're glad that if they're going to indict that they've indicted so we can get to work." The ring is accused of selling the stolen whiskey through connections made at softball tournaments throughout Kentucky, and is also accused of importing and selling illegal anabolic steroids along with other pending charges. 
Melton credited information from the community with helping to break the case. During a news conference in Frankfort following the indictments, he said "unless you're here, it's hard to understand how much information that we get…and how much comes in. What significantly makes a difference is that we've got a team that worked its tail off for the community at the end of the day." Melton credited Franklin County prosecutors, investigators from the Kentucky Attorney General's office, and his colleagues in counties around Kentucky for their support of the investigation.
WhiskyCast asked executives at both Buffalo Trace and Wild Turkey, along with the Van Winkle family, for comment on the indictments. Wild Turkey responded with this post on the brand's official Twitter feed.

Wild Turkey also provided this statement issued jointly with Buffalo Trace and the Van Winkle family.
"Buffalo Trace and Wild Turkey have been working in full cooperation with the investigation of the Franklin County and Anderson County sheriffs' offices.  We thank the authorities for their efforts on this case and appreciate their swift, thorough detective work to get this in front of the Grand Jury as quickly and as comprehensively as possible.   We take this matter very seriously and support the prosecution of anyone found in violation of state or federal government laws related to our businesses.  As this is an ongoing investigation, we have no further comments at this time and will refer all questions to Franklin County Sheriff Pat Melton."
Buffalo Trace and the Van Winkle family declined to comment beyond the statement issued through Sheriff Melton's office.
This story will be updated as necessary.
Editor's note: This story was updated with additional information following an interview with Franklin County Sheriff Pat Melton, along with a clarification on the statement issued jointly by Wild Turkey, Buffalo Trace, and the Van Winkle family. 
Links: Franklin County Sheriff's Department | Old Rip Van Winkle | Buffalo Trace | Wild Turkey