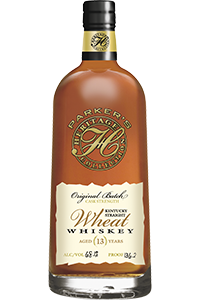 September 9, 2014 – Heaven Hill is about to begin shipping the 2014 edition in the Parker's Heritage Collection series of whiskies selected by Master Distiller Emeritus Parker Beam, and will once again donate part of the proceeds from the sale of each bottle to the ALS Association's "Parker Beam's Promise of Hope Fund." Last year's "Promise of Hope" Bourbon helped raise more than $300,000 for the fund, and Heaven Hill has pledged to donate $5 for each bottle of the 2014 edition sold. Beam was diagnosed with ALS two years ago, and while his illness has forced him to scale back his schedule, he continues to work at Heaven Hill as his health permits. However, he has added "Emeritus" to his title, and Craig Beam is now Heaven Hill's master distiller.
The 2014 edition is named "Original Batch", and is a 13-year-old straight wheat whiskey that comes from the first distillation run at Heaven Hill's Bernheim Distillery in Louisville for what eventually became Bernheim Original Straight Wheat Whiskey. In a telephone interview, Heaven Hill spokesman Larry Kass explained that the distillery had been producing wheated Bourbon for Old Fitzgerald when Heaven Hill acquired both the distillery and the brand from United Distillers in 1999.
"We had a lot of wheat in one of our silos, and Craig Beam decided in 2000 to go ahead and try a run of straight wheat whiskey with a 51% wheat formula, and we ran about 160 barrels, which was the smallest that we could do," Kass said. "We put it up on the seventh floor of Warehouse W, which is about our best warehouse there (in Bardstown), and we kind of tasted it every few months to see how it was progressing." Heaven Hill eventually released it under the Bernheim label in 2005 with no age statement, but gradually increased the age to 7 years and added an age statement to the whiskey earlier this year. The Heritage Collection release comes from the remaining barrels of that original production run that had been held back for an additional 8 years of maturation.
Listen to Mark Gillespie's interview with Larry Kass:

"Original Batch" is bottled at a cask-strength 63.7% ABV with no chill-filtering, and is the seventh edition in the annual series. It will carry a recommended retail price of $89.99 per 750ml bottle, and will be available in limited amounts.
Tasting notes will be available soon at WhiskyCast.com.
Editor's note: This story was updated to include an interview with Heaven Hill's Larry Kass.