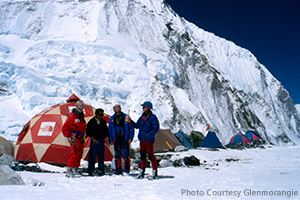 May 29, 2013 – Today marks the 60th anniversary of Sir Edmund Hillary and Tenzing Norgay's historic first summit of Mount Everest in 1963, and 20 years since Rebecca Stephens became the first British woman to reach the highest point on Earth in May, 1993. Stephens was part of an expedition team sponsored by Glenmorangie, and a newly-discovered photo shows that team with a bottle of Glenmorangie at what's believed to be the highest spot a bottle of single malt has ever reached.
In a news release, Glenmorangie President Paul Skipworth noted that the team had taken a case of Glenmorangie with them to Everest, but assumed that they had only taken it as far as their base camp. However, a photo discovered in the company's archives this month shows the team with one bottle at Camp Two, about 21,300 feet up the 29,000 foot mountain. Stephens identified the location when she viewed the archive's photos.
"The support we received on our climb was invaluable and our bottles of Glenmorangie raised spirits in every sense. It's only when Glenmorangie showed me the pictures from their archive that I realised how significant taking that bottle up to Camp Two had been: to be honest, I hadn't thought to mention it!"
Stephens now chairs The Himalayan Trust UK, which helps fund education programs for the people of Nepal, and laid down a cask at the distillery shortly after returning from the expedition that eventually raised £15,000 for the Trust. To mark the dual anniversaries, Glenmorangie will make a donation to the Trust and the Mount Everest Foundation, charities chosen by Stephens.

Links: Glenmorangie | The Himalayan Trust UK | Mount Everest Foundation